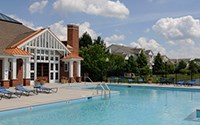 We could not be more excited to expand into Chicago's Western suburbs where discerning guests will enjoy the same superior service and fabulous amenities
Chicago, IL (PRWEB) September 04, 2013
Adding to Chicago's luxury corporate housing portfolio, Manilow Suites has expanded its offerings to now include corporate housing in the western suburbs, which include locations in Lombard, Naperville and Wheaton. Conceived by noted business woman and CEO Francine Manilow, Manilow Suites offers a chic suburban vibe – upscale amenities, luxurious suites, unparalleled service – for relocating professionals, consultants, new hires, and interns.
"We could not be more excited to expand into the suburbs where discerning guests will enjoy the same superior service and fabulous amenities currently offered to our downtown clientele," says Sarah Wynn, VP of Client Relations. "The biggest surprise! Manilow Suites provides so much more for so much less. You really receive the greatest value for the dollar."
Manilow Suites has over 200 luxury apartments in 13 prestigious high-rise buildings throughout downtown Chicago including North Harbor Tower and The Shoreham in Lakeshore East, Millennium Park Plaza and 215 West in the Loop, Presidential Towers in the South Loop and One Superior Place in Gold Coast.
Manilow Suites pioneered the evolution of corporate housing in Chicago and has been an industry leader for over 33 years. Today their clients include relocating executives from prominent Fortune 500 companies, consultants and interns. Excellence in service continues to be a top priority for Manilow Suites.
Manilow Suites is a certified Woman-Owned Business specializing in short-term corporate housing in the Chicago area. Manilow Suites provides guests with a unique experience customized for each guest, down to the smallest detail. It is the only corporate housing provider that indulges its guests with specialty amenities from Manilow coffee to bath soap.
Manilow Suites is headquartered at 175 N. Harbor Drive, Chicago, IL, 60601. For more information about Manilow Suites, please call 312-819-0050, or visit the website at http://www.manilowsuites.com.