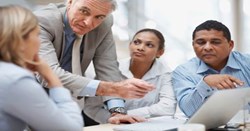 "we took information from several of our readers on how to report and fight workplace bullying and we have incorporated their tips within the article."
London, UK (PRWEB) September 05, 2013
Top Ten Tips for Fighting Bullying in the Workplace, a NoBullying.com Updated Guide, is re-launched today.
The team at Nobullying.com also invited readers to contribute their experiences with workplace bullying to make the fight clearer and stronger. They can reach the team on media@nobullying.com
The article lists the top 10 tips for fighting workplace bullying, such as, making sure work regulations cover bullying and cyber-bullying, also Promoting a healthy work environment where no one is taken advantage of and no one gets credit for work they did not do.
The article highlights the importance of implementing a culture of diversity lessens the possibility of bullying a fellow employee as well as making sure bullying incidents are reported and following up on the case until it is seriously addressed. It is also highly recommended to confront the bully in a staff meeting and making sure everyone understand the employee is not comfortable with the way he/she is being treated.
Macartan Mulligan, Co-Founder of NoBullying.com, said "we took information from several of our readers on how to report and fight workplace bullying and we have incorporated their tips within the article."
The article comes out in an endeavor to define bullying extensively and support is with statistics and numbers because education is the first step to combating bullying correctly. It is also raises the need for tougher more strict rules on preventing workplace bullying in a manner that doesn't jeopardize someone's career.
NoBullying.com features many pages dedicated to parents, teens, teachers, health professionals as well as posts related to cyber safety and the latest news about law making concerning curbing Bullying worldwide as well as inspirational Bullying Poems and [Bullying Quotes.
The website makes a habit of updating its bullying statistics and cyber bullying statistics regularly because it is essential to understand how widespread the bullying epidemic is.
He also added that anyone suffering from bullying in any form or way can always reach out to the team of NoBullying and they will be given advice on how to stand up to bullying or protect themselves online.
The founders of the website hope that viewers can truly learn about bullying definition as well as school bullying and workplace bullying and put a serious effort to making it stop by education and caution and not by violence. NoBullying.com is not a mere website but an actual movement against bullying.