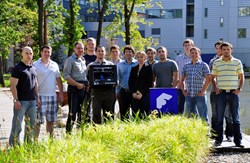 FabSecure technology preserves the creative freedom of consumers, as well as how they use their printers. It provides them with an easy and legal way to purchase and make originals.
(PRWEB) September 02, 2013
FabSecure is a licenseable one-stop-solution for monetizing original designs in 3D printing.
At the Mobile World Congress 2013 in February, a startup called Fabulonia demonstrated streaming of 3D designs from Germany to a 3D printer in Barcelona, Spain. It was one of the two showcases at the event using 3D printing, the other being that of Nokia and Makerbot Industries. Fabulonia's showcase attracted large crowds of visitors, some calling it the "Spotify for 3D designs".
FabSecure is the result of over a year's work by a team of software and hardware engineers and cyber security experts at Fabulonia. The focus of the team has been on building a robust, secure business platform for the 3D printing era. The FabSecure platform is ready, available immediately, and licensing negotiations with global, branded enterprises are ongoing.
So what is unique about FabSecure and what does it promise for 3D printing?
One of the strengths of Fabulonia's integrated software and hardware approach is that it enables enterprises to start an end-to-end secure 3D printing business, from stores to 3D printers, with one platform supplier. And thanks to Fabulonia's patent-pending secure 3D streaming, originals are not exposed to exploitation.
"Fabulonia provides the whole 3D printing business solution for storing, licensing, distributing and selling 3D designs online and streaming them to a 3D printer. It turns 3D originals into new revenue streams, using FabSecure streaming servers, and embedded 3D printer security software." explains Kimmo Isbjörnssund, CEO of Fabulonia and continues:
"Companies can even create their own 3D printers with embedded copyright security. What's great about this is that it provides alternatives, not restrictions. FabSecure technology preserves the creative freedom of consumers, as well as how they use their printers. It provides them with an easy and legal way to purchase and make originals. Old, hacked, and unpopular DRM schemes are no longer the only way to monetize your copyrighted content."
The FabSecure platform is ready for branded enterprises and 3D printer manufacturers, both existing and new. It is a tailored, distributed manufacturing system for businesses of any size. For SMEs and studios there is the FabSecure 3D Streamer with integrated secure cloud access.
More about FabSecure at: http://www.fabsecure.com
If you are ready to take on the world of 3D printing and are interested in Fabulonia's secure 3D printing and streaming platforms for your business, you can contact Fabulonia Licensing and Sales at +1 (650) 488-8440 or visit the website.
Meet Fabulonia at Inside 3D Printing in San Jose (exhibitor, booth 128, 17–18 September)
http://www.mediabistro.com/inside3dprinting/fall/sponsors.asp
About Fabulonia
Fabulonia, a pioneer in 3D printed IP security and the inventor of secure 3D streaming technology, is a startup located in Tallinn, Estonia. FabSecure by Fabulonia is a full, licenseable, end-to-end 3D printing security solution for enterprises. With FabSecure, everything from consumer stores to 3D printers can be built securely to start monetizing 3D originals. Fabulonia is led by an experienced management team: CEO Kimmo Isbjörnssund (MS, Finnish, with a background in business development, marketing, and future technologies showcases at Nokia for 14 years), CTO Anton Vedeshin (Estonian, PhD (expected) in Information Technology with focus on cloud computing and 3D printing technology, heading Fabulonia's software and hardware platforms development), and Chief Architect John Dogru (American, former Dell Lead Engineer and IT Security Auditor with a specialization in manufacturing and security, with 17 years of experience, responsible for the product architecture). Taavi Kikas (Estonian) is sales manager.
Since its foundation, Fabulonia has protected its innovations with a growing IP portfolio of patents pending worldwide for its technologies.
Fabulonia and FabSecure are registered trademarks of Fabulonia Ltd. All rights reserved. Copyright 2013.