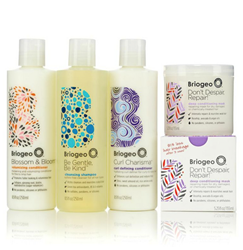 New York, New York (PRWEB) September 04, 2013
Emerging hair care brand Briogeo, pronounced [bree-oh-jhee-oh], launches its inaugural line of natural, high-performance products that are all free of harsh chemicals and controversial ingredients present in many of today's prestige hair care brands.
Briogeo looks to change how consumers view and use today's hair care products while delivering spectacular results. From its fresh-scented shampoo, deep-hydrating conditioners, and colorful bottles, all of Briogeo's ingredients and packaging are eco-friendly and contain at least 95 percent of natural and naturally derived ingredients.
Unlike many hair care brands on the market, all of Briogeo's products have been tested for efficacy and performance. They are also free of potentially harmful ingredients like sulfates, parabens, silicones, artificial colors, and synthetic fragrances, while the brand's eco-chic bottles contain at least 25 percent post consumer recycled (PCR) plastic.
Briogeo has also taken a different approach to developing its brand by producing four tailored formulas that address a wide array of hair care needs and texture types. Briogeo can bring luster and shine back to dry, brittle hair; fortify and volumize limp, thin hair; de-frizz and define curls and waves; or cleanse and hydrate hair with nutrient-rich ingredients, leaving it soft and manageable. The choice is yours.
Innovative products featured in the line:

Richly cleanse and refresh the scalp with sulfate-free "Be Gentle, Be Kind" shampoo - $19.00
Treat your curls to naturally-enhancing performance ingredients that de-frizz and define texture with "Curl Charisma" curl-enhancing conditioner - $23.00
Leave limp and lifeless hair behind with "Blossom & Bloom" volumizing and thickening conditioner - $23.00
Prevent breakage, get a healthy shine and luster, and replenish strength with "Don't Despair, Repair!" deep repair mask - $26.00 (studies showed 81 percent less hair breakage after 3 uses)
About Briogeo:
Launched in the fall of 2013, Briogeo is a naturally based hair care collection that combines the best of science and nature to create high performing hair care formulas for a diverse array of hair texture types. The Briogeo brand was inspired by a family tradition of making natural beauty products from scratch in the kitchen of the founder's home and the belief that beauty should not be compromised by harsh or harmful ingredients.
All of Briogeo's formulas are made in the United States. All contain at least 95 percent natural and naturally derived ingredients, and are free of SLS, parabens, phthalates, silicones, and artificial colors and dyes. Instead, each formula is fortified with the finest blends of natural plant and fruit extracts, oils, antioxidants, and hair healthy vitamins. Briogeo's eco-chic bottles are made with 25 percent post-recycled plastic and are creatively designed to resonate with the modern day beauty consumer.
All products are currently available at NewBeauty at Fred Segal (Santa Monica, CA), CurlMart.com, and BriogeoHair.com. For more information, please visit BriogeoHair.com. Visit us on Facebook.com/briogeo. Join the conversation on Twitter.com/briogeohair.