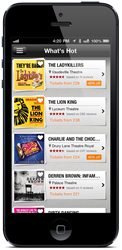 Keeping in touch with the West End and booking theatre tickets has never been so easy.
London, UK (PRWEB UK) 3 September 2013
"We are very excited about the new app. We are investing heavily in mobile technologies so that theatregoers can effectively carry the entire West End in their pockets," said Thibaud Defretiere, Best Of Theatre's Managing Director.
What makes iTheatre so special?
iTheatre, developed in collaboration with the London-based interactive mobile application development company Ubinow Solutions, covers every West End production. In effect, it's the smallest and more comprehensive London theatre guide on the market. As well as providing detailed information, production images and the latest reviews, iTheatre also lets users make live bookings until 5 p.m. on the day of the performance.
New features include user reviews and improved show categorisation, with 15 categories for faster, more accurate search. There's a West End News section, a full list of London Venues with current shows, a bigger ticket inventory and more special discounts. With up to 70% off tickets for top London shows, it's the ideal way to keep up to date with the latest discounts and be the first to grab the best bargains.
Bringing theatreland to the small screen
The bad old days, when you had to sit down at a computer to find out what's playing on London's stages, are over. Now you can search shows, find out everything you need to know about them and book seats on the bus or tube, in the pub, en route or in bed.
As Thibaud Defretiere says, "Keeping in touch with the West End and booking theatre tickets has never been so easy. We are proud to have played a part in bringing the West End to the small screen. This app is a real game-changer, especially for our younger, tech savvy theatre-loving customers, as well as very good news for all theatre fans on a limited budget."