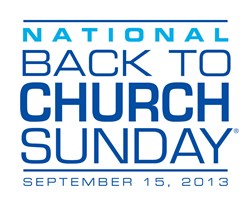 We are so excited to partner with National Back to Church Sunday and encourage our listeners to get to church that day, and every Sunday. - Faron Dice, WAY-FM
Colorado Springs, CO (PRWEB) September 02, 2013
WAY-FM and National Back to Church Sunday today announced their partnership to help promote this year's 2013 Back to Church Sunday on September 15.
All WAY-FM stations from will participate in telling listeners about Back to Church Sunday, encouraging church-going listeners to invite others to come to church with them, and helping other listeners find a church using a church finder located on the WAY-FM websites.
Listeners to the contemporary Christian music format stations will continue to hear the focus throughout the month of September, as WAY-FM is encouraging people to go back to church all month long in all of its markets.
"We are so excited to partner with National Back to Church Sunday and to encourage our listeners to get to church that day, and every Sunday," said Faron Dice, Vice President of Content and Network Services for WAY-FM, "and to invite others to churchas well. WAY-FM is committed to really living out our faith and encouraging deeper involvement in ministry among our listeners in the communities we serve."
WAY-FM, part of WAYMedia, airs on over 100 radio stations in 26 states. Markets served include: Denver, Colo.; Nashville, Tenn.; West Palm Beach, Fla.; Portland, Ore.; Louisville, Ky., and Huntsville, Ala. For more information, visit http://www.wayfm.com .
National Back to Church Sunday is the largest annual community-based church outreach effort in the nation, when thousands of churches share the simple message and mission of inviting everyone in America Back to Church. The campaign empowers churches and church members with the tools they need to welcome their neighbors, friends and loved ones back to church, while providing an easy way for everyone in the community to find a welcoming church.