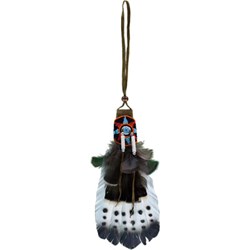 All things are connected. Whatever befalls the earth befalls the children of the earth.
~ Chief Seattle, Suqwamish and Duwamish
Colebrook, NH (PRWEB) September 03, 2013
Kheops International, one of the finest wholesale suppliers of metaphysical, New Age and spiritual awareness supplies plans to celebrates Native American Day throughout the month of September by offer savings on select dream catchers, Shaman wands, smudging feathers and medicine bags. Visit them at http://www.kheopsinternational.com to view the complete line up.
Body
Native American cultures across the country have brought holistic and metaphysical healing to people for centuries. Celebrate these time honored traditions and save all month long on select dream catchers, Shaman wands, smudging feathers and medicine bags at Kheops International.
Dream catchers are one of the most recognizable Native American tools in the world. This ancient spiritual tool is hung over the sleeping area to protect the sleeper from bad dreams.
Many Native American Shaman use a wand to channel energy and direct its movement. The energies channeled are used to heal people, induce a trance, or for spiritual journeying to other planes.
Medicine bags are another traditional Native American staple. They are used as symbols of personal power and protection. Medicine bags hold sacred medicines specifically designed for the owner. Traditionally the bag contains an element from the mineral, plant and animal families, as well as items from the owner's life. Each bag is customized for a specific intent.
Smudging feathers have been used in the Native American culture for centuries. Feathers help to spread sacred smoke from rituals and prayer ceremonies around a room or person for purification. Smudging feathers are a must have for any New Age shop.
Celebrate the captivating traditions of the Native American and save the whole month of September on select dream catchers, Shaman wands, smudging feathers and medicine bags. Boost the savings with Kheops famous "Promo Bundle Package."
About KheopsInternational.com
Kheops International prides itself on being one of the best wholesale suppliers of quality metaphysical products. They search the globe to bring meaningful gifts to your store. Kheops makes it a priority to steadily increase its supply of products that have been manufactured using environmentally-sound methods. Their purchasing agents work diligently with suppliers to improve product quality, maintain competitive pricing and to ensure that the manufacturing processes are safe. These humanitarian efforts help to ensure a positive energy in all of their meaningful gifts.