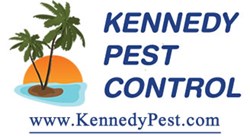 Pest Control San Diego gets new Fan Page.
San Diego, California (PRWEB) September 02, 2013
DotCom San Diego announced today that they have launched a new Facebook Fan Page for their client Kennedy Pest Control to help serve their customers and the community better.
Kennedy Pest Control's new Fan Page will be a tool they use to communicate with the community, share tips on pest control and offer specials from time to time. Offering San Diego Pest Control services to all cities and counties in the greater San Diego area.
The new Facebook Fan Page is located at https://www.facebook.com/KennedyPestControl and those experiencing problems with pest control are invited to like our page and get great do it yourself advice as well as be notified of special offers and discounts offered on their Fan Page.
About Kennedy Pest Control:
Founded locally in 1986 by Tim Kennedy, Kennedy Pest Control has experienced steady growth and success through honesty, integrity and plain old hard work. They use the latest technology and equipment and have a staff of well-trained and honest technicians and office personnel. Kennedy Pest Control offers services that include the removal of: Ants, Fleas, Roaches, Bees, Spiders, Wasps, & Earwigs. They also offer trapping and exclusion services as well as termite inspection and removal. More information can be found at http://www.KennedyPest.com
###