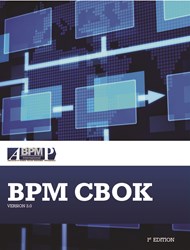 BPM is an evolving discipline that is rooted in a core set of fundamentals. The Guide to the BPM CBOK captures these fundamentals accurately while still recognizing that the practice is still developing.
St. Paul, MN (PRWEB) September 04, 2013
ABPMP is proud to announce the release of the third edition of the BPM CBOK©
Business Process Management (BPM) methods, supporting technologies, techniques and approaches are continually evolving. While the fundamental concepts underlying BPM practice remain firm, these developments require that we continually update our body of knowledge to reflect current practice. This new third version of the ABPMP Guide to the BPM Common Body of Knowledge offers more than 400 pages of information, insights and guidelines gleaned from a broad spectrum of practitioners.
Contributions in this volume come from our members, thought leaders, practice leaders at major consultancies, key industry analysts, and well known authors in the BPM field. This guide is a reference manual and each chapter represents a core topic in the BPM discipline.
The English and Portuguese versions of the BPM CBOK V3.0 are now available as downloads to members thru ABPMP International and the ABPMP Brazil websites (member area).