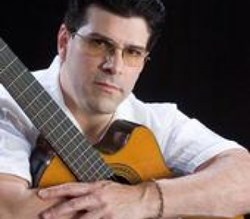 Miami, Florida (PRWEB) September 04, 2013
Jose Angel Navarro joins Miami Blues Band as lead Guitarist, announced earlier by a spokesman for the Miami Blues Band.
Mr. Navarro is a concert guitarist with a long international career. Navarro has been able to bring the concert hall rhythms of Afro-Cuban music transposed to guitar, with a unique style and technique, which has identified him in the world, as unique in way of playing his instrument. His virtuosity and versatility are showed through his musical compositions using elements of classical, Flamenco, Jazz and World Music. He has extensive discography and has shared the stage with renowned guitarists.
Miami Blues Band is a 14-man big band; the band covers Sinatra and the 50's big band era. The band takes the audience back in time when music of Sinatra, Dean Martin, Bobby Darin, Gene Kelly, Louis Armstrong and Bing Crosby dominated the charts.