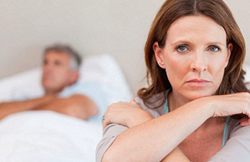 When your man is getting up 3-4 times a night that affects the whole family.
Irvine, CA (PRWEB) September 03, 2013
When you think of prostate health you normally think of men - but a new survey by the makers of Prost-P10x® gives insight into why women are major purchasers of prostate supplements.
Prostate health affects over 50m men in the USA. Symptoms include difficulty urinating, "stopping and starting", urgency and frequency as well as never quite feeling like you have emptied your bladder completely.
Although symptoms of an enlarged prostate can manifest themselves throughout the whole day, most men feel the effects of an enlarged prostate are more prevalent at night - when the frequency and urgency of "having to go" has them getting up consistently throughout the night to go to the bathroom.
After seeing that approximately 30% of the purchasers of their Prost-P10x® prostate supplement were women the company surveyed their purchasers to determine the reasons behind the buying decision. "We wanted to know why so many women were buying our product which is seen obviously as a men's health concern," said the President of PR Labs, Craig Cooper.
According to PR Labs, the results of the survey showed the most common reason why women were buying prostate supplements was that they were frustrated that their husband or partner was not taking charge of their own health - and they believed that their partners prostate health was not just affecting them, but was affecting the whole family.
Based on the survey, the inability to get a full night's sleep because of prostate problems was resulting in a number of other issues that affected the whole family including:

Depression
Irritability
Low testosterone
Low libido and sex drive
Fatigue and exhaustion
Marital problems
"Basically, the woman is left to find a remedy so that everybody in the family can be happier and healthier. If your man is consistently getting up 3-4 times a night that is going to affect the whole family," said Cooper.
The survey also showed that women are more likely to do more research to find out which are the best prostate supplements and which use the most clinically supported ingredients. They are also more likely to read prostate supplement reviews and other clinical information about what are the best prostate ingredients before making a purchase decision.
Overall the survey also showed that women are more likely to:
Not buy a prostate product advertised on an infomercial or by a celebrity;
Research the ingredients and clinical studies;
Look for a prostate product developed by a Doctor;
Look for prostate supplement reviews that are believable; and
Research where the product is made.
"I admit that women are definitely smarter purchasers than men when it comes to prostate supplements," said Cooper. "They are more likely to research and do their homework before making a decision to purchase. That's the kind of customer we want after all; one that wants their partner to get healthy and knows the value of a quality product."