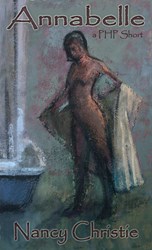 Annabelle knew the truth, but no one wanted to believe her. They would rather believe their own version of the past—an ugly, untrue, hurtful version. But Annabelle knew better. Annabelle could remember.
(PRWEB) September 03, 2013
PHP Shorts (an imprint of Pixel Hall Press) has published "Annabelle," a hauntingly lyrical short story eBook by Nancy Christie, which is garnering rave reviews and readers' praise. To celebrate the publication of "Annabelle," Pixel Hall Press is holding a raffle to give away 5 copies of the story as an ePub, Kindle mobi or PDF file. To enter to win, go to the "Annabelle webpage".
A SMALL SAMPLING OF THE RAVE REVIEWS & READERS' PRAISE FOR "ANNABELLE"
"[Annabelle] is fragile in the way that Kafka's protagonists are fragile. Both writers tell their stories without the slightest self-pity or sentimentality. Like Kafka's heroes, Annabelle is vulnerable and already deeply wounded. Yet, unlike them, she is deeply feminine. And unlike Kafka's stories, Nancy Christie's tales are always beautiful" - Morrow Wilson
"The writing is lush, descriptive and powerful." – Julie Whiteley
"'Annabelle' is a literary gem that captures your imagination to a haunting surrender.... This is one of those stories that you will remember for a long time." – Michelle Bowles
"This story is vivid, powerful, and disturbing. It certainly deserves to be read more than once." – Anita Gorman
ABOUT ANNABELLE
We all have our fantasies—our hopes and dreams of what we want our future to be. But what happens when our fantasies are based on an erroneous interpretation of past events, when our hopes and dreams are so far from reality that they prevent us from having any kind of a normal life? A lonely young woman, all Annabelle wants is to love and be loved. But the twin emotions of fear and guilt, from a passion born on a summer day so many years ago, hold her fast.
In the short story "Annabelle," author Nancy Christie paints a lyrical portrait of a young woman, the daughter of a painter and his devoted model. Their obsession with the creation of art binds the family and twists the soul of a child.
A short story eBook (in formats readable on all devices), "Annabelle" is currently available for $0.99 from Amazon and Kobo, and will shortly also be on sale on BarnesandNoble.com and the Apple iBookstore.
ABOUT NANCY CHRISTIE
Nancy Christie's essays and fiction can be found on the pages of magazines as diverse as Full of Crow, Fiction365, Red Fez, Wanderings, The Chaffin Journal, Woman's Day, Experience Life, Tai Chi, Writer's Digest and Xtreme. Christie's book, "The Gifts of Change" (Beyond Words/Atria), explores ways to make the most out of life's challenges. She is currently working on several book projects: a novel, a short story collection and a book for writers.
A member of the American Society of Journalists and Authors, Christie writes articles for print and online publications as well as handles copywriting for corporations and marketing/advertising firms. She also teaches writing workshops at writing conferences and schools across the country and hosts the monthly Monday Night Writers group in Canfield, Ohio
ABOUT PHP SHORTS
PHP Shorts, an imprint of Pixel Hall Press, publishes stand-alone short stories and novellas as inexpensive eBooks.
With the proliferation of Kindles, eReaders, plus eReading apps for phones, iPads, tablets and computers, Pixel Hall Press predicts that the market for short stories and novellas is
about to experience a renaissance. The length of a story is going to become irrelevant. All that will
matter is whether it's a great story that captures the readers' interest and imagination, and that it can be read on any device you happen to have with you.
The next PHP Short will be Cautionary Tales for a New Millennium, a droll, slightly jaundiced collection of very short illustrated stories that reach below the funny bone to expose insights and truths about who we are and what we are becoming. Later this year, PHP Shorts will also be publishing "Alice in Wonderland" another pearl of a story from Nancy Christie, and re-releasing "The Broken Bottle" by Sally Wiener Grotta.
ABOUT PIXEL HALL PRESS
Pixel Hall Press is a relatively new, old-fashioned small publishing house that is quickly becoming known for discovering literary gems and great stories that might have otherwise been overlooked.
In this era of digital technology, Wall Street involvement and merger mania, mainstream publishers seem to have lost sight of the core principles and purpose of publishing. At the other end of the spectrum is an avalanche of self-published books that are notoriously uneven in quality. Small boutique imprints, such as Pixel Hall Press, are reclaiming the heart and soul of publishing by reviving the idea that a publisher's "raison d'être" is to find and nurture great writers, and to provide readers with beautiful, meaningful, truly enjoyable books.
Determined to keep Pixel Hall Press small, we will be moving forward slowly and deliberately. We plan to add only one or two new book authors a year, giving them more creative involvement, the opportunity for greater dialogs with readers, and a higher percentage of the profits. In addition, we will add a handful of new short story authors per year, publishing their stories initially as eBooks only, as part of our recently announced PHP Shorts series. Eventually, Pixel Hall Press will publish one or two print short story anthologies a year. A significant portion of the profits from each multi-author anthology will be donated to a charity relevant to the subject of the anthology.
Authors interested in submitting novels or short stories to Pixel Hall Press should read the Writers Guidelines first.