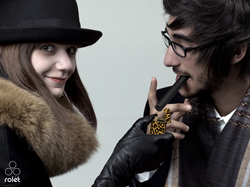 Chicago, IL (PRWEB) September 03, 2013
Rolét™, a design-driven smoke industry startup, announces its brand new Rolét Smoke Pipe on the crowdfunding site Indiegogo. Engineered with precision, Rolét is a premium device for the casual smoker. Social like a hookah and pocketable like a cigar, it was designed to embrace the organic camaraderie that smoking creates between friends and strangers alike. Whether it's sharing a smoke on the ski lift with a stranger or at a music festival with friends, Rolét is all about portability, sharing, and convenience!
"Amidst the recent wave of amazing new product innovations in the e-cigarette and vaporizer categories, I felt that the many smokers preferring a more traditional smoke pipe experience were being ignored and in need of a premium product upgrade," says Chris Sherrill, Founder of Rolét.
Rolét contains zero electronic parts and is very easy to use in only three small steps: 1) Load the three chambers with loose-leaf; 2) Slide on the device's sleeve to a secure fit; 3) Light the exposed chamber with a lighter or match then smoke. From there, the user can securely and conveniently share it with a friend or store the pocketable device for later use.
About Rolét
The Rolét Smoke Pipe is the first of many modern smoke products and accessories that Rolét plans to design and develop. Ultimately, Rolét aims to create a lifestyle brand characterized by the natural desire to socialize with friends and strangers over a smoke, or as Rolét would say, to "smoke socially™"! For more information, visit Rolét on Indiegogo.