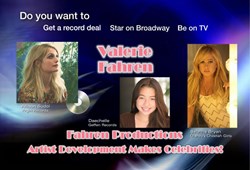 There isn't just one person in every discipline of the music industry that's right for every artist. It's knowing who to match up with whomever produces the best result.
Los Angeles, California (PRWEB) September 07, 2013
Valerie Fahren's latest Artist Development project centers around Pierce Driessen, a 14-year old "Quintuple-Threat" artist. Valerie recently brought together the team responsible for co-writing and recording Pierce's latest song, "Start This Over," as well as coordinating the personnel who handled the acting, choreography and production of the song video. Ms. Fahren has been personally working with Pierce as a vocal coach, allowing him to develop both as a singer and songwriter. Now, as his Artist Development mentor, that focus has broadened to include all facets of what an emerging artist like Pierce is likely to encounter on his rise to the top.
One of the ways Valerie is preparing artists like Pierce for the next level is through performing in the well-respected Fahren Productions Music Industry Showcase. Pierce and other Artist Development clients get to perform their original songs in front of encouraging audiences and a panel of top industry judges who provide quality written feedback for each performer. Valerie Fahren is a pioneer in this regard, raising the bar for talent showcases by adding new levels of reality that are likely to be encountered as a rising star garners increasing attention from industry executives and fans.
Breaking away from the pack in today's music industry is a much more complex task than in past years. Technology has made it possible for virtually anyone to become a recording artist in their bedroom and the internet has made getting known via iTunes and YouTube a relatively simple affair. Not growing up in the age of solid music education or world-class drama programs in school, today's aspiring artists arrive at the doorstep of discovery needing help in many areas such as singing, movement, stage presence, handling audiences, recording, handling the media, acting, video production, etc. No single teacher or coach can cover all of these bases directly; this is where Valerie Fahren's specialized Artist Development comes into play.
From years of experience as a celebrity vocal coach and showcase producer, Valerie Fahren has assembled a team of top-flight professionals in virtually every aspect of the industry. But Valerie cautions, "There isn't just one person in every discipline of the music industry that's right for every artist. It's knowing who to match up with whomever produces the best result. Different styles of music have different writing, recording and on-stage performance skills and each one has a different group of professionals that specialize in that genre. What's right for Pierce would not necessarily be the best choice for my other clients."
Some of Valerie Fahren's Artist Development success stories include Sabrina Bryan (Disney's Cheetah Girls), Alison Sudol (A Fine Frenzy), Erika Christensen (NBC's Parenthood), Daechelle (Geffen Records), and Miles Alden (Broadway leading role in Aida). Noted clients of Valerie Fahren Productions have included Juliette Lewis, Lynsey Bartilson, Nayo Wallace, Andrew Leeds, Marisol Nichols and other top celebrities.
Valerie adds, "Pierce Driessen is the type of artist I can effectively help get to the next level. He's passionate about making it in the music industry. It takes 110% commitment to achieving that goal; that's the only attitude that provides the best opportunity for success. I've had excellent results with my clients who are dedicated. Anyone is welcome to apply for this Artist Development program, but I can only devote my time and resources to a select few."
Contact Valerie Fahren at valerie(at)valeriefahren(dot)com.
Website: http://valeriefahren.com
Pierce Driessen's song video, "Start This Over" - http://youtu.be/dd1jEANgXD0