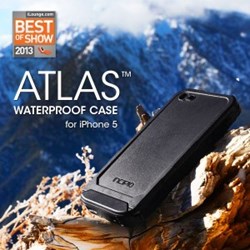 Phone insurance will replace the piece when lost or stolen, but saving the trouble of creating a claim for the broken piece is the real benefit.
Miami, FL (PRWEB) September 03, 2013
After a few months of hard work, the Miami, FL based iBootiq finally launched its online shop front to the iPhone and iPad user. The shop offers a fresh inventory of cases and accessories that can satisfy the most demanding online shopper. From basic cases to sophisticated ones as the ATLAS by Incipio which is an excellent waterproof case for the iPhone. They also offer accessories like the amazing new Orbotix Sphero and the innovative NomadBrush just to mention just a few. iBootiq aims to cycle fresh inventory items and offer trendy accessories to the online shopper from a single click.
"We have the opportunity to test and review most of the accessories to make unbiased recommendations for our customers," states FJ Linares, owner of iBootiq. "A good way to look at a case purchase is to see it as more of an investment rather than a mere expenditure. Many people think that cases are only for those that really care about keeping their phone or tablet pristine, but that's really just the tip of the iceberg."
Earth's gravity will always be stronger than us. Seriously, no matter how careful, dropping the phone at least once or twice becomes a natural reflex. So the question becomes how much protection is needed? The undeniable answer is it depends.
For instance, Android phones and tablets are built a bit tougher, and are more likely to survive the occasional drop, talking from experience. The iPhone and the iPad, on the other hand, while built with gorgeous looks, are a lot more likely to break when dropped, so the argument of using a case is imperative.
Square Trade statistics reports that the average installment for having an iPhone insured is at a minimum $8.00 a month. Check out these shocking numbers:

Damaged iPhones have cost Americans $5.9 billion since 2007.
30% of iPhone owners have experienced accidental damage in the past 12 months.
17% of iPhone owners have damaged an iPhone more than once.
6% of iPhone users have taped up their phone.
11% of iPhone owners use phones with cracked screens.
Accidental damage is 10 times more common than either loss or theft for iPhone users. Half of iPhone users under 35 have had an accident
Top 5 iPhone Accident Scenarios
Fell out of my hand: 30%
Immersed in liquid: 18%
Fell out of my lap: 13%
Knocked off a table: 11%
Liquid spilled on it: 9%
Most pay an average of $7.00 a month on phone insurance which comes out to about $84.00 yearly that can be saved by protecting the phone with a good case. A good case costs around $50.00 once, and can protect the phone for more than a year. Whether the plan is to resell or upgrade the phone instead of keeping it around, an investment in a quality case is a good idea that could result in saving money and time.
Users in the UK pay £5.33 to £6.66 monthly on phone insurance according to a study run by The Guardian. The insurance will replace the piece when lost or stolen, but saving the trouble of creating a claim for the broken piece is the real benefit.
About iBootiq:
iBootiq is an online shop that sells iOS device cases and accessories. The company belongs to TechForrest, a website design studio originally incorporated back in 1994 as iSITE, Inc in Coral Gables, FL. With more than 15 years' experience in customer satisfaction and working with industry leading brands, iBootiq aims to serve the smartphone and tablet owner by offering the freshest and most convenient products available on the market. iBootiq is not a publicly traded company. For more information please visit: http://www.ibootiq.com or email at: info(at)ibootiq(dot)com or call 877-593-7085 Mon-Fri 9-5 CST. Use this code and get free US shipping for a limited time: XQHCMS1.