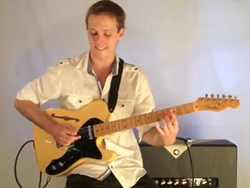 Los Angeles, CA (PRWEB) September 03, 2013
In this tutorial, titled "Rhythm Guitar Lesson – Right Hand Development – Fingerpicking Exercises," Jon demonstrates using a C major chord and a G7 chord in first position. Instead of strumming, the player picks individual notes using the pick for the lower notes and second and third fingers for the higher notes. It takes a little getting used to, but gives the player a new style of rhythm guitar to add to the repertoire.
On the C chord, first play the fifth string, third fret with the pick, then play the first string with third finger (picking hand) and then second string with the second finger. Likewise, play the fourth string, second fret, with the pick, then first and second strings individually with the fingers. Then play the open third string with the pick, followed by the first and second strings with the fingers. Repeat the same right hand exercise using the G7 chord. The rhythm guitar tabs are available by clicking on the indicated button.
Players new to fingerpicking should start slowly, using a metronome or click track to stay in time and gradually build up speed. Enjoy and learn more from Jon MacLennan and all the teachers at Guitarcontrol.com in dozens of jazz guitar lessons at http://www.youtube.com/guitarcontrol.
GuitarControl.com, a leader in online music education, is the brainchild of ace Philadelphia guitarist Claude Johnson. Since its launch in 2004, the site has offered lessons taught by virtuosos in styles ranging from rock, metal and blues to jazz, bluegrass and country to classical, flamenco and fingerstyle acoustic. Its many DVD courses include Supercharged Soloing Made Simple, Larry Coryell Jazz, Fast Track Guitar System, Wicked Chicken Pickin' Chops, How to Play Smokin' Blues Guitar, Killer Lead Guitar Made Simple and Gospel Guitar, as well as courses for singers, drums, bass and keyboard, and music software, song collections and jam tracks.