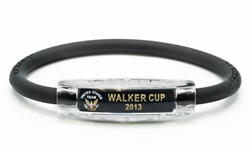 This is one piece of equipment that may make a difference for the US team. - Bob Gotfredson
Dallas, Texas (PRWEB) September 04, 2013
The U.S. & Great Britain/Ireland Walker Cup teams prepare to square off at the National on Sept. 7-8. The 2013 Match is a return to its roots – the National hosted the inaugural event in 1922, its only USGA championship. Although the USA holds a 34-8-1 lead overall, the last dozen matches have been split evenly at six apiece. The Great Britain and Ireland side won the 2011 Match at Royal Aberdeen in Scotland so the Americans are out to win back the Cup on home turf.
The U.S. Team will be sporting the limited edition 2013 Walker Cup IonLoop sport bracelet which will at least give them the benefit of the most advanced negative + magnet technology available today. "In the past, we have supplied the USGA with U.S. Flag bracelets for the Walker Cup but this year, we went all out and designed a very distinctive IonLoop with the official U.S. Team logo," said Bob Gotfredson IonLoop Co-Founder. "This year's U.S. team is loaded with talent and perhaps more importantly experience with a 35 and a 45 year old on the 10 man team. The GB&I team has 4 teenagers including two 18 year olds. The difference in the team make-up should be interesting but in reality we are just proud to be part of this great event," said Gotfredson.
About IonLoop http://www.ionloop.com
IonLoop® negative ion bracelets, wristbands and necklaces are a great first-step in counteracting the harmful effects of positive ions. The negative ion properties are manufactured into the silicone bands themselves and will not lose their effectiveness over time. Most of the bracelets and necklaces also contain two small but powerful magnets that are carefully assembled so that they alternate the polarity of each magnet; we believe this manufacturing process may be adding another dimension to the potential stimulus that the magnets may have on the chemistry of the human body. Ionloop is proud to have golf industry leader Ahead as their exclusive distribution partner for the golf industry. Please go to http://www.aheadweb.com to learn about this great company.
Keep your eyes out for IonLoop bracelets during the Walker Cup and stay in the Loop!
For additional information on IonLoop technology and to view all of the other IonLoop bracelets, visit http://www.ionloop.com.