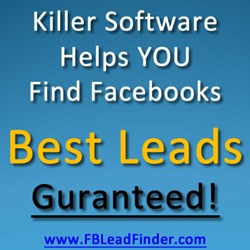 Find Facebooks best leads with FB Lead Finder
San Diego, California (PRWEB) September 03, 2013
Angel Investors Network & 22Social in a joint announcement will be holding a LIVE Google On Air Hangout to discuss various Facebook marketing strategies designed to help small business and online marketers.
This week's guest in the "Joe to Pro" training series will be CEO of Angel Investors Network, Greg Writer to discuss their new software FB Lead Finder and how it can be used to generate leads, traffic and customers for any small business owner, online marketer or social media marketer.
Mr. Writer was quoted as saying "we will share many case studies and show entrepreneurs how to find Facebooks best leads and then what to do with them when you find them. In addition I am very excited to using 22Socials platform to broadcast and syndicate the Google On Air hangout with thousands of Facebook fans."
You can watch the Live Hangout at http://www.22s.com/writer/fbleads to be held September 3rd, 2013 at 12pm pacific standard time.
More Information about Angel Investors Network
AngelNetwork.com, LLC doing business as Angel Investors Network (AIN) has been serving high net worth investors and entrepreneurs since 1997. They are an educational membership site that provides information to both high net worth investors and entrepreneurs to help them successfully invest in, raise capital for and structure their early stage, emerging growth and pre-IPO investment opportunities.
AIN was created by a group of successful entrepreneurs, investment bankers, angel investors, marketing and management experts, lawyers, and accountants who have built companies in a diverse set of industries. AIN offers investors an opportunity to participate in the buying and selling of businesses, making equity investments, and providing debt financing to businesses with the opportunity of less risk and faster returns than typical Angel Investments because of our unique approach.
AIN also works with investors, marketing strategists, management experts and financial gurus who combine their skill and experience to work with our target investments and make them highly successful businesses. We are more than just Angel Investors. We are Business Marketing Consultants. We invest our time, expertise, and money in exchange for equity with the objective to help entrepreneurs succeed. http://www.AngelNetwork.com
More Information About 22Social
With the 22s Marketing App, 22Social is using Facebook as the world largest person registry to identify and deliver relevant and unique experiences that connects people with new information in real time.
The 22s Marketing App is the fastest, easiest way to install a powerful landing page inside Facebook and on mobile at the same time. Other innovations include: a smart-link that can be advertised across all platforms, one click Facebook app assist lead capture, ability to embed a Google "On Air" Hangout and simulcast that Hangout on an unlimited amount of replicated pages - all with the same rolling comment stream.
In the last 90 days, over 10,000 Fan Page owners have installed the 22s Marketing App and over 1,000 pages have successfully hosted a Google On Air Hangout.