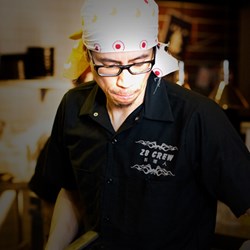 Celebrity chefs, three ramen dishes, drinks, and music = The Zen Box Izakaya RAMEN ATTACK block party!
Minneapolis, MN (PRWEB) September 11, 2013
The first annual Ramen Attack at Minneapolis restaurant Zen Box Izakaya is scheduled for Sunday September 29, 2013. Ramen Attack will feature John Ng, Executive Chef/owner of Zen Box Izakaya, and co-founder of popular Minneapolis Skyway lunch spot, Zen Box Japanese Eatery, known for his architectural approach to cooking, rising star chef Mihoko Obunai, contender of Food Network's Chopped, and awarded "Best Ramen in Atlanta" by Atlanta Magazine, and Chef Shige Nakamura Executive Chef of Sun Noodle's Ramen Lab, the youngest of Japan's "Four Ramen Devas" - the gods of the cuisine - and one of the industry's top ramen chefs.
The three will create unique ramen dishes; Minneapolis-style ramen, Atlanta-style ramen, and New York-style ramen. Minnesota's Surly Brewing Company has chosen two special pairing for the event to complement regional ramen flavor profiles; Overrated, a west coast style IPA and beer-lover favorite, Cynic. Sake and Asahi Beer will also be served.
Ramen Attack will feature music by DJ Steez and taiko drummers from Mu Performing Arts. Ramen Attack will start at 12:00 noon, and go to 5:00 PM to celebrate the 2-year anniversary of Zen Box Izakaya.
Tickets to Ramen Attack will be available at Zen Box Izakaya the day of the event and will be $2 at the door to get in. All food and beverage purchases will be cash only. All are invited to attend.
Event updates will be posted with the hashtag #ramenattack and on the Zen Box Izakaya Facebook event page: http://on.fb.me/15HP4HM.
About Zen Box Izakaya:
Minneapolis restaurant Zen Box Izakaya was started by husband and wife John Ng and Lina Goh in 2011. An Izakaya is a Japanese gastro pub that features authentic Japanese comfort food with pairings of sake, shochu, wine and Japanese cocktails.
John and the Zen Box Izakaya team are available for ramen and/or Japanese cooking demonstrations. To schedule a media appearance, please call Lina Goh at 612-332-3936 or email lgoh(at)zenboxizakaya(dot)com.
Visit us at http://zenboxizakaya.com | @zenboxizakaya
SOURCE: Zen Box Izakaya
For further information: Lina Goh telephone number: 612-332-3936 or email: lgoh(at)zenboxizakaya(dot)com