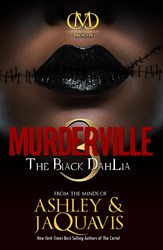 Ashley & JaQuavis are two of the most creative young minds of this generation.
New York, NY (PRWEB) September 03, 2013
CMC - Cash Money Content books, the publishing arm of premier record label Cash Money Records, will release the thriller, Murderville 3: The Black Dahlia, on September 3, from New York Times bestselling literary duo, Ashley & JaQuavis.
Ashley & JaQuavis, are Hip-hop's first official Couple of Urban Fiction and are the youngest African American co-authors to make five appearances on the New York Times bestseller list. At only age 28, the couple has co-authored more novels than any other literary duo their age. Ebony magazine recognized their work last year, dubbing the duo a "Power Couple" and included them on their Ebony 2012 "Power 100" List.
Ashley & JaQuavis are also co-authors of the biggest selling series in contemporary urban publishing, The Cartel. Now up to 4 volumes, with three hitting the New York Times list, the well-written and fast moving series has sold more than 300,000 copies. Cash Money Films has optioned the film rights to the series and is currently adapting the books into scripts for the big screen.
Murderville 3: The Black Dahlia, hitting stores September 3rd, is the third release from Ashley & JaQuavis' Murderville trilogy, and also the third release with CMC books, the book publishing company from Cash Money Records, the record label that is home to superstar artists Nicki Minaj, Lil Wayne and Drake
"Ashley & JaQuavis are two of the most creative young minds of this generation," said Ronald "Slim" Williams, co-founder of Cash Money Records and Cash Money Content books. "They are legendary story-tellers and have done it again with their latest release for us, Murderville 3: The Black Dahlia. With Cash Money Content our goal is nurture young minds, and encourage our people to read. There are many talented young people in our communities. All they need is encouragement and stellar examples like Ashley & JaQuavis to inspire them."
Murderville 3: The Black Dahlia is the follow up to last year's hit, Murderville 2: The Epidemic and 2011's Murderville. The Black Dahlia introduces the story of Dahlia and her bloodstained ascent to power as she positions herself to take over the country's Black Market. The story finds Liberty back in her hometown, after leaving Po, but it's only a matter of time before she comes face-to-face once again with the cold-blooded Black Dahlia. Who will end up on top? Will the Black Dahlia's bloody reign come to an end?
This fall, in celebration of their current release, Ashley and JaQuavis will embark on a special book/lecture tour where they will be sharing their story and formula for success in Novels and now film and publishing with the CMC Presents– The Writer's, Game…How to turn your writing into real Ca$h Money Tour.
This must attend event is ideal for anyone who has dreams of embarking on a publishing or writing career and is seeking real, unfiltered advice on how to turn writing dreams into reality!
Upcoming Tour Dates:
Sunday, September 15, 2013
Chicago Public Library 2pm - 4:30 pm
9525 South Halstead Street, Chicago IL 60628
Saturday, September 21, 2013
Brooklyn Book Festival - Official Bookends Event
Event: CMC Presents The Writer's Game featuring Ashley & JaQuavis
Location: E Gallery 459 Vanderbilt Avenue
Time: 4pm - 6pm
Friday, October 4, 2013
Books A Million -Sumpter, SC
1057 Broad Street
Sumpter, SC
Book signing 6pm
Saturday, October 5, 2013
Books A Million - Columbia, SC
164 Forum Drive
Columbia SC
11am - 2pm
Workshop 11-12 - The Writing Game
Book signing 12:30 - 1:30 PM
About Cash Money Content
Cash Money Content (CMC) is a groundbreaking partnership that pairs the Cash Money Records brand with Atria Books, a division of the publishing powerhouse, Simon & Schuster. CMC is publishing some of the most original and influential authors of urban fiction, as well as life-changing books on success, motivation, money and health, and memoirs from some of today's most prominent voices.
Set for release this year from CMC is Reverend Al Sharpton's The Rejected Stone: Al Sharpton and the Path to American Leadership, in stores October 8, 2013. This year marked the release of Paparazzi Princesses, the teen novel co-authored by Bria Williams (the 15 year old daughter of Cash Money Content co-founder and rap star Bryan "Birdman" Williams) and Reginae Carter (the 14 year old daughter hip hop superstar Dwayne "Lil Wayne" Carter). Also out this year is the re-release of The Naked Soul of Iceberg Slim, from legendary urban fiction author Iceberg Slim, in stores on September 10, 2013, and Animal 2, the follow up to the Amazon.com #1 seller by the same name from award-winning author K'wan Foye, in stores November 19, 2013.
About Ashley & JaQuavis
Ashley Antoinette Coleman and JaQuavis Coleman are not only a bestselling literary duo, but they are also a happily married couple with a three year old son. Ashley's New York Times bestselling solo series The Prada Plan caught the attention of Viacom networks who have tapped her to pen the Single Ladies series of novellas for MTV Books, adapted from the hit VH1 television series by the same name! JaQuavis' solo projects include his Dopeman series of novels, the upcoming novel The White House for legendary rapper Prodigy and "The Ruse," a film he has written and is currently directing for the big screen for the couples' Like Minds Films.
Past novels from Ashley & JaQuavis include: Dirty Money (2005), The Trophy Wife (2008), Supreme Clientele (2009) and Kiss Kiss Bang Bang (2009), and Murder Mamas (2011), to name a few. However, it was The Cartel series that caused young readers and the publishing industry to take notice.