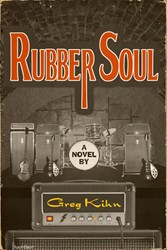 "I hope readers have as much fun reading this book as I did writing it. I fell in love with the characters, especially Dust Bin Bob, and they stayed with me long after I turned in the manuscript. I didn't want it to end," said Greg Kihn.
Los Angeles, CA (PRWEB) September 03, 2013
Premier Digital Publishing is proud to announce the publication of Rubber Soul by Rock 'N Roll legend Greg Kihn in print (ISBN 978-1-62467-094-7,$16.99) and eBook (ISBN 978-1-62467-093-0, $9.99). Greg Kihn continues to pioneer the rock thriller genre with Rubber Soul, an exhilarating ride through Beatlemania featuring The Beatles themselves. The idea for Rubber Soul originated from his interviews with Paul McCartney, Ringo Starr, Pete Best, Yoko Ono, Patti Harrison, and Geoff Emerick. When asked where The Beatles found the rare American R&B 45's that constituted their early repertoire, Pete Best revealed that it was from Merchant Marines who carried the records back to Liverpool from America. From there, came the fictional Dust Bin Bob, a character who befriends The Beatles from their penniless early days and saves them from an assassination attempt in the Philippines during their world tour in 1966. Rubber Soul is a work of fiction with 100% historically accurate details. This fast paced plot, full of intrigue, also incorporates historically accurate facts as well as previously unpublished information about the Beatles' early years.
"I hope readers have as much fun reading this book as I did writing it. I fell in love with the characters, especially Dust Bin Bob, and they stayed with me long after I turned in the manuscript. I didn't want it to end," said Greg Kihn.
"Greg Kihn is a true pioneer of the rock thriller genre," commented Thomas Ellsworth, CEO of Premier Digital Publishing. "On the stage and between the pages he continues to thrill his fans with his unique style and voice."
Praise for Rubber Soul:
"Rubber Soul is a magical mystery tour de force by Greg Kihn, a rocker who obviously has a way with words as well as music. His imagined story about the Beatles is fast-moving, full of twists and tension, and musical nuggets and insights. Great story-telling set to a Fab-four beat." - Ben Fong Torres, former senior editor of Rolling Stone
"Rubber Soul captures what Rock-n-Roll is all about – and Greg Kihn would certainly know! This nearly-true story of the Beatles is pure magic and I couldn't turn the pages fast enough." - Eddie Money
"Greg Kihn is the most compelling author who ever had a top five singing career. Rubber Soul is a fantastic story by Greg, with an historical back beat. I urge you not to miss this." - Joan Jett
"I'm happy to report that Rubber Soul, the latest work by my pal Greg Kihn, has correct punctuation, complete sentences, even full paragraphs - some of the exact same literary devices that can be found in the greatest novels our culture has ever produced! It's also written in English, which happens to be one of my very favorite languages." - "Weird Al" Yankovic
"While the RIAA may not be able to certify Kihn's work with a gold disc, fans of Kihn and The Beatles, as well as those who long for the simpler yet magical time of the 1960's will thoroughly enjoy and fall in love with Rubber Soul. They certainly don't write 'em like this anymore." - Chris Shapiro, RetroPulse
"I've known Greg Kihn for decades and he's never ever run out of amazing tales, stories, and recollections. I never knew which ones were real, true, folk-lore, imagined, or of pipe dreams, Kihn-a-sized. It's all to his readers' benefit he writes fiction." - Rick Nielsen, Cheap Trick
"There's no one more qualified to write a rock-and-roll novel than Greg Kihn. He's the real deal and at his Kihntillating best in this book." - Guy Kawasaki, former chief evangelist of Apple
About Rubber Soul:
Dust Bin Bob runs a second hand shop at the Flea Market on Penny Lane. He has an extensive collection of American R&B singles that he gets from Merchant Marines returning from Baltimore and New York. The action starts when he befriends some blokes by the name of John, Paul, George and Ringo and becomes their lifelong friend sharing the vinyl that will start a revolution. From then on, it's a rocket ride from the Beatles earliest days in Liverpool to six shows a night in Hamburg to the Cavern Club and to full-fledged Beatlemania. Along the way, Dust Bin Bob thwarts a plot by Marcos loyalists to assassinate the Beatles in Manila after they snub Imelda Marcos, blowing off a reception at the palace and narrowly avoiding an international incident. It could have happened!
For additional information, please visit: http://www.premierdigitalpublishing.com/product/rubber-soul/
About Greg Kihn:
After a lifetime of Rock and Roll, and decades on the road and almost 17-years behind the microphone as San Francisco Bay Area's #1 Classic Rock FM Morning Man, no one else but Greg Kihn could have written this story. NBC called Greg Kihn "Rock's True Renaissance Man." His career stretches from the dawn of punk and Indie Rock to the discos of the 80's to the glory days of MTV. As a pioneering recording artist with the legendary Beserkley Records of the 1970's and 1980's with chart-topping songs and MTV videos for "Jeopardy" and "The Breakup Song (They Don't Write 'Em Like That)," Greg Kihn helped write the book on revolutionary west coast Rock and Roll. In the 90's, Greg Kihn turned his attention to writing fiction and FM Radio. He published four novels, a handful of short stories in various anthologies, and edited a compilation of original fiction by famous musicians. His first novel in 1997, Horror Show, was nominated for the prestigious Bram Stoker Award for Best First Novel. Breaking into FM Radio in 1996, Greg is recognized as the longest reigning #1 Classic Rock Radio morning man in the San Francisco Bay Area, broadcasting on KFOX FM 102.1 San Francisco and 98.5 San Jose, until September 2012 when he was inducted into the Bay Area Radio Hall of Fame. The Greg Kihn Band, (represented by Paradise Artists - http://www.paradiseartists.com) with his son Ry Kihn on lead guitar, will be performing in major markets throughout the USA in 2013.
Website: http://www.gregkihn.com
Facebook: https://www.facebook.com/gregkihn
Twitter: https://twitter.com/gregkihn
YouTube: http://www.youtube.com/gregkihnvideos
About Premier Digital Publishing:
Premier Digital Publishing is a leading independent digital publisher and innovator in eBooks, enhanced eBooks and interactive content. Led by a team of digital media pioneers, the company ranks among the top suppliers of quality print and eBook entertainment to the industry's most prominent tablet reader distributors and top-tier retailers.