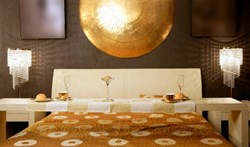 In addition to its monetary equity, the home will provide the ultimate needs for the aging parents if the right amenities are present.
San Francisco, CA (PRWEB) September 03, 2013
Rustic, industrial, eclectic, modern or traditional are favorite home interior designs today. Within each style, the individual personalities of a home's inhabitants will provide additional charm – edgy, masculine, feminine, and time-worn or budget chic - with their choices and personal collections. Often these styles are mixed and matched, as each family member makes their mark. KindaChic.com, a home décor and furnishings website, will help each personality find the charm that every home needs.
Beneath the interior design, the most important consideration when making an investment in a new home is how long this structure will accommodate the owners. When home buyers are young, single or childless, important considerations may be the home's location in a popular neighborhood or the design is in a modern architectural style. The foremost consideration for a young couple planning a family is a structure suitable for young children to be in residence for a time span of twenty years. Suitability, in these cases, means a single level residence with multiple bedrooms, family meeting areas, a garage and sheltered outdoor space. These amenities are ideal when there is a harmonious layout of the bedrooms near the bathrooms and the kitchen alongside the dining and living rooms. Single level homes benefit toddlers and their young parents with safety concerns. Single level homes were commonly built in the suburbs during the 1950's and 1960's, but more recently built structures are often split level homes due to dwindling open space. The split level structure presents an obstacle for those learning to walk or struggling with declining health. A house will become a home, but it also becomes the most important investment for an individual or couple. This investment will become more valuable the longer the residents occupy the home. Often what makes a house suitable for a young family are the same amenities necessary for aging residents.
When a house becomes the most valuable to the residents is when these residents will need it the most, when they are living on a fixed income during their "golden years". In addition to its monetary equity, the home will provide the ultimate needs for the aging parents if the right amenities are present. These amenities include a level entry way, a first-floor bedroom and bathroom, wider hallways and doorways as well as low-maintenance landscaping throughout the garden. If the young couple can envision an extended life together when buying their first home, recognizing what will be the most valuable amenities will provide for them during their lifetime. Then the interior design can start out as rustic and evolve into modern with online resources such as Kindachic.com. The house will always be a home if the built structure has the young and old residents' needs in mind from the start.