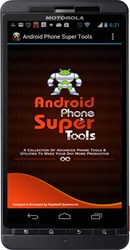 Dr. Brijesh Kumar, COO, "It is indeed a great app for busy professionals and executives who will find it very useful like I do."
Princeton, NJ (PRWEB) September 04, 2013
Rapidsoft Systems releases "Android Phone Super Tools" mobile app, a collection of powerful productivity tools and utilities for the call management for Android smart phones
Android Phone Super Tools is one of the most innovative apps that will do almost everything a user may want a smart phone call manager to do. The primary objective of the app is to provide a set of unique power utilities to busy professionals and executives to better manage their phone communication, and save them valuable time.
Android Phone Super Tools app has many useful features hidden under a beautiful user interface. It shows the call log with detailed breakdown and group analysis of all incoming and outbound calls. A user can easily export call logs for forwarding to others. Another utility monitors Internet usage for the cellular network data. The app also includes tools for automatically regulating the ringtone/ alert volume levels based on the ambient noise around the user. There are many additional features to manage incoming calls and text messages. A user can accept, reject or auto answer calls from the selected contacts. The app also adds abilities to announce caller IDs or read out incoming text messages. There are tools to deal with most call management situations.
Commenting on the release, Dr. Brijesh Kumar, COO, Rapidsoft Systems Inc. said, "We are very pleased to announce this application to the millions of Android smart phone users worldwide. It took our technical team sometime to develop due to many technical challenges that we faced during implementation, but we are very pleased with the final outcome. It is indeed a great app for busy professionals and executives who will find it very useful."
The app is currently available on Google market. It will soon be available in the Amazon Android market place as well. The app can be downloaded at the links below:
About RapidSoft Systems, Inc.
Rapidsoft Systems Inc. (http://www.rapidsoftsystems.com) is a leading Outsourced & Offshore Software Product Development company providing a wide variety of software development and other IT related services to its client around the world. It partners with technology companies and software-enabled businesses to help them bring quality software products, mobile and web applications to market through dedicated or on-demand offshore engineering teams. It has a subsidiary, Mobisoft Technologies (http://www.mobisofttechnologies.com) dedicated to mobile applications development located in Noida, India.
Rapidsoft Systems, Inc. has its main office in Princeton, NJ, USA, a US R&D Center in Mercerville NJ, and sales, support and development offices in Palo Alto, CA, USA, Dubai (UAE), and Noida (India).