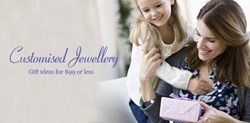 The latest StyleRocks collection is designed to recognise the challenges facing the consumer – without compromising on quality - Pascale Helyar-Moray
Sydney, New South Wales (PRWEB) September 03, 2013
This selection from http://www.stylerocks.com includes rings, earrings and necklaces, in a mix of silver and pearl jewelry. All jewelry from this collection is customizable through a number of options: either by adding plating – to achieve the gold look for less – or through changing the colour of the pearls: white, pink or black. Of course, all ring sizes and necklace lengths are accommodated, while engraving is another detail to ensure personalization.
StyleRocks Founder Pascale Helyar-Moray says, "Every day, there is more newsflow from the Australian press which confirm the challenging economic times, where the retail environment is being impacted. The Reserve Bank of Australia recently cut interest rates to an unprecedented 2.5%, an all time low. This economic decision was made in a bid to encourage consumer spending and get the Australian economy moving. The latest StyleRocks collection is designed to recognise the challenges facing the consumer – without compromising on quality."
Through its online-only presence and a partnership with Australia's largest jewelry manufacturer, customers are able to customize jewelry at StyleRocks at a fraction of the usual retail cost. In addition to enjoying a process of ease and convenience, customers are no longer limited by the inventory on offer from a jewelry retailer. Continued Helyar-Moray, "With over 3 trillion jewelry combinations, the StyleRocks customization capabilities are unrivalled by any other website globally. The StyleRocks premise is to make jewelry customization affordable; the latest range of jewelry priced at $99 or under demonstrates that it is possible to have luxury for less."
All StyleRocks jewelry is made in Australia, with a 3-week turnaround time. Free shipping is available both locally and internationally.