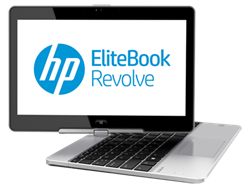 High specification, great looks and a successful evaluation meant that the HP EliteBook 810 Revolve ticked all the right boxes for the Housing Association.
London, Greater London (PRWEB UK) 4 September 2013
Initial discussions with the IT Director at the Housing Association uncovered a clear requirement to replace an assortment of aged desktops and laptops with a full complement of brand new, feature-rich laptops. MBA IT subsequently identified a number of potentially suitable options for consideration, whilst the customer's move to newly renovated offices drove the requirement and contributed to extremely tight deadlines of the implementation.
Sri Rathakrishnan, Account Manager at MBA IT, worked closely with the IT Team at the Housing Association to identify four key credible vendors; HP, Lenovo, Fujitsu and Toshiba. "My client was keen to ensure that the new laptops to be introduced were of a high technical specification, so working closely with the four vendors enabled me to present suitable options. The best way to compare the products was to provide evaluation units, so we organised for each vendor to allow the customer to trial their products for a few weeks following an introductory demonstration."
The rich features of both the HP EliteBook 810 Revolve and Fujitsu Q702 put them at the forefront of the competition. With equally high specifications the client had to consider factors that contributed to the usability and end user opinion. Having moved into newly renovated offices the client was keen to implement a "Tidy Desk" policy and Sri was quick to identify to the customer that HP's Ultraslim docking stations would be a great addition to maintain the new image of the office. The docking stations offered full enterprise capability and simple connectivity for times when users would be office based. Both factors meant that the HP EliteBook 810's light, ultra thin and full touch-enabled display fulfilled the client's objectives.
MBA IT provided 360 HP EliteBooks and 310 HP ultra slim docking stations and to ensure that the customer was advised of all additional benefits available within the HP product portfolio they were provided with multiple care pack and peripheral options to choose from.
With a centrally located warehouse MBA IT was able to manage the complex logistics for the client ensuring they received weekly delivery reports, whilst stock-holding and part shipping as and when required.
Sri believes that the Logistics Team at MBA IT were instrumental to the success of the project. "I was in constant contact with my client throughout the duration of the project, providing weekly outstanding sales order reports to ensure that all devices and peripherals were delivered to the right place at the right time. Our Implementation Team also offered an imaging service but the client's bespoke applications meant that they preferred to do this in house. From initial brief to fulfillment this project went incredibly smoothly and now my client is fully established in the new office and very happy with their HP infrastructure".
About MBA IT
MBA IT is a HP Gold Preferred Partner specialising in servers, storage (ESSN), printers and personal systems (PPS). MBA IT is a Lenovo Premium Partner, providing best-in-class devices to businesses across the UK and USA and is also a Fujitsu Registered Partner and Toshiba Principal Partner. MBA IT's team of experienced technical consultants keep fully abreast of laptop, ultrabook and tablet market in order to provide best advice and a seamless service.