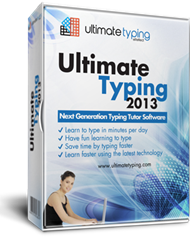 ...the benefits realized through Ultimate Typing far exceed the cost of the software itself...
New York City, NY (PRWEB) September 09, 2013
Ultimate Typing is a typing software system that allows its users to hone their typing skills with ease in a short period of time, and also to save – or even make – money over the long term, according to eReflect. In today's announcement, the development team explained that users that are able to hone their typing skills are able to realize both monetary and non-monetary benefits. The team believes that the benefits realized through Ultimate Typing far exceed the cost of the software itself, based on a cost/benefit analysis conducted by eReflect's expert developers. This analysis was recently confirmed using feedback provided by actual customers, and the results match the estimates published with the release of Ultimate Typing 2013.
The eReflect team noted that the startup cost (the purchase price) of Ultimate Typing is $29.95 and that although its benefits are not expressed in monetary terms, they largely exceed the cost of the software. Ultimate Typing can help users to save 4-47 hours per month while improving job efficiency by a staggering 63%. Improved typing skills and the resultant Advanced Typing Certificate awarded by Ultimate Typing can allow users to enhance their earning capacity by applying for their desired jobs. Furthermore, Ultimate Typing allows users to understand ergonomic techniques that are helpful in preventing health injuries associated with typing for long hours.
Ultimate Typing confidently claims that users will be able to learn typing skills within a matter of two weeks and any user that is not satisfied with the product can simply claim a refund of the purchase price. In addition, eReflect will also pay an extra $50 for non-satisfactory performance. The money-back guarantee clearly reveals that users carry virtually no risk when they make an investment in the software. The development team at eReflect stated that the money back guarantee ensures that the benefits continue to exceed the costs even if the user is not satisfied with the product. This indicates that Ultimate Typing indeed provides a high return on investment, by any measure.
For eReflect and its satisfied customer base, Ultimate Typing's extensive range of benefits, from better computer knowledge to enhanced typing skills, is definitely a product that offers high value for money to its users.
For more details on Ultimate Typing™ please visit http://www.ultimatetyping.com/.
About Ultimate Typing™
Ultimate Typing™ software is designed specifically for the improvement of typing skills. Created by eReflect, a world leader in e-learning and self-development software, Ultimate Typing™ has been informed by the latest developments in the science of touch typing.
Since its creation in 2006 by Marc Slater, the company has already catered to over 112 countries all over the world, offering products with the latest cutting-edge technology, some of which are among the world's most recognized and awarded in the industry.