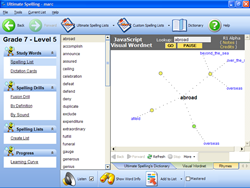 ...parents can instill a reading habit in their children from early age by reading with them.
New York City, NY (PRWEB) September 06, 2013
An increasing number of parents are now focusing on designing strategies that can help their children with vocabulary learning, stated a member of the eReflect team in a briefing today. The team stressed that vocabulary building must be a major focus during early childhood.
The eReflect team is intent on promoting vocabulary development in young children, and their latest initiative involves a close collaboration with kidsgoal.com, Monicka Gregory's website. The author of the website provides in detail the best strategies that can be adopted by parents in order to make the learning experience fun and engaging. As the articles on the website explain, the learning process must incorporate games and short breaks at regular intervals.
Parents are a role model for their children, Gregory stated in a recent interview with the eReflect Ultimate Vocabulary team. She noted that parents can instill a reading habit in their children from early age by reading with them. As the eReflect team noted, reading from an early age can help children develop an extensive vocabulary.
In a briefing after the interview, the eReflect team explained that parents can help their children build vocabulary by engaging in games. The latest product from eReflect, Ultimate Vocabulary 2013, offers a fun and engaging learning environment to its users through a range of vocabulary-based interactive games.
As the eReflect team noted in today's statement, a child's vocabulary can be improved massively during early childhood. Parents must not only establish a routine and a set of goals for their children's learning habits but also engage in conversation with their children as soon as possible, even as early as age two.
For more information on how you can benefit from Ultimate Vocabulary, please visit its official website, http://www.ultimatevocabulary.com.
About Ultimate Vocabulary™
Ultimate Vocabulary provides a proven and powerful platform, built to improve anyone's vocabulary.
The interactive self-improvement system provides more learning tools than any other program on the market, as well as more information on words.
The Ultimate Vocabulary software provides each and every user with a personal computer tutor. Providing a step-by-step guide to learning a powerful vocabulary, Ultimate Vocabulary is the learning tool everyone can benefit from.
Of course, the software is also backed by eReflect's iron-clad money back guarantee.