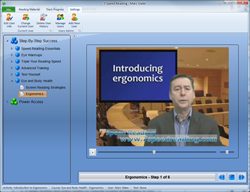 ...users can master these skills more easily by gaining hands-on experience through reading a range of material.
New York City, NY (PRWEB) September 12, 2013
7 Speed Reading software, a speed reading training program by eReflect, allows users to read at above-average speed by focusing on improving their skills through a range of eye and memory skill activities. 7 Speed Reading software is designed for users that wish to save time and effort in reading news and other relevant material, stated a member of the eReflect team in a recent briefing. However, the software developers also believe that users can master these skills more easily by gaining hands-on experience through reading a range of material.
The availability of devices such as Kindle and Kobos readers means that e-reading has gained immense popularity, explained a team member from eReflect. E-reading offers a range of advantages to users and its popularity is largely due to the convenience, cost effectiveness, and ease of reading that it offers. However, the cost of purchasing e-books can deter avid readers from downloading material. As the eReflect team noted, cost and availability is no longer a barrier as free reading resources are now readily available.
As the 7 Speed Reading website highlights, one of the top-rated features of 7 Speed Reading software is the availability of hundreds of e-books integrated in the software. The team believes that users can practice reading by selecting their favorite books from the collection. Furthermore, users can now access reading resources through the help of several Internet sites, as noted in a blog post published on the 7 Speed Reading blog.
Another one of the 7 Speed Reading blog posts indicate that readers can simply search for online libraries that offer access to a variety of reading materials at no-cost. As noted in the post, JSTOR is a highly-ranked site for individuals that wish to access millions of journal articles, books and materials both current and historical. The 7 Speed Reading blog explains that readers no longer have limited access to the JSTOR website, but instead can create an account and gain access without paying for anything. The eReflect team encourages readers to take advantage of all of the resources discovered and discussed in the posts published on the 7 Speed Reading blog.
For more information about the benefits of using 7 Speed Reading, please visit the official website at http://www.7speedreading.com.
About 7 Speed Reading™
7 Speed Reading is the only modern speed reading software that uses the latest technology to produce superior results.
The software provides its users with a new way to master speed reading that guarantees three times the reading speed along with improved memory and comprehension.
The software is poised as the most comprehensive speed reading system anywhere. It contains seven learning strategies, fifteen software activities, video training, advanced tracking capabilities and many more exciting features.