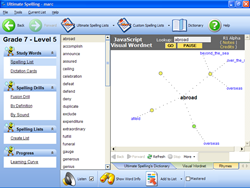 ...the Fusion Drill activity, the software provides both the audio pronunciation for and definition of a word...
New York City, NY (PRWEB) September 11, 2013
Ultimate Spelling™ software, developed by eReflect company, is proud to offer its users an exclusive spelling improvement activity: Fusion Drill. According to a statement released by the development team behind Ultimate Spelling™, Fusion Drill is the result of combining sound and definition drills into a single spelling drill activity. As a result, the user is able to both listen to a word being pronounced and read its definition, prompting them to figure out the correct spelling to be entered in the space provided.
While other software designed for spelling improvement only provides users with a sound drill or a definition drill in separate areas, eReflect's spelling software Ultimate Spelling™ offers these two options as well as the combined Fusion Drill option, for those users who are more interested in having both options available at once.
As the eReflect team revealed today, during the Fusion Drill activity, the software provides both the audio pronunciation for and definition of a word; once the user submits their spelling for the word, the software immediately provides feedback if the submitted word is misspelled, prompting the reader to retry. For younger spellers, several prompts or hints are often provided at this stage to ensure the child is encouraged to get it right the next time around.
Fusion Drill is a virtually inexhaustible source of spelling training, eReflect reported in their announcement today. Fusion Drill's database is constantly updated either with words the user adds to the software's database, or those added by the program's own updates. This ensures that the user has constant access to a large pool of new words to spell and learn. Today's statement from eReflect confirmed that the developers of the spelling software sought to provide learners with a fun and engaging spelling activity that combines two different learning styles, catering to the needs of both learners who prefer audio cues and those who prefer to figure out words semantically, through word definitions.
For more information about how Ultimate Spelling software can improve spelling performance for you and your family, please visit the official website at http://www.ultimatespelling.com.
About Ultimate Spelling™
Ultimate Spelling provides a modern and easy to use spelling software that has been designed with one goal in mind – making children want to learn.
It is a fast and easy way to master even the most complicated spelling, without the need to write long lists or complete boring tests.
In fact, Ultimate Spelling provides more than just spelling help. It is a complete educational resource that boosts all level of a child's literacy.
Containing a personal computer tutor, Ultimate Spelling is the most realistic step-by-step guide to flawless spelling ability.