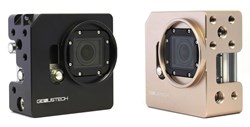 The Strongest and Most Versatile GoPro Cage in the World
(PRWEB) September 04, 2013
The new Genus Cage for GoPro® Hero 3 is now available.
With the Genus cage, the GoPro camera can now get closer to the action than ever before. The need to handle the toughest situations has driven Genus to design the strongest and most versatile GoPro camera cage in the world. The camera owner can configure their camera the way they want. Naked, with housing or with LCD backpacks. The Genus cage has the camera covered and protected.
Available now for only $99
http://www.genustech.tv/products/gopro-cage
Key Features
GoPro Mount adaptor allows 14 different mounting positions
30 separate mounting positions using ¼"-20 threaded holes 6 Separate 3/8"-16 threaded holes
52mm Filter Thread built into the cage, allowing for protective and effects filters, and lens adaptors
Precision CNC Aluminum housing for 360 degree protection, featuring back plate with rear mounting option
Accessibility Window to allow for HDMI output and USB external Power
Naked GoPro Adaptor Shims, allowing the use of camera without the waterproof housing in order to combat lens fogging issues
Safety line anchor point, to allow for attachment of lanyards, Carabiners etc
Can sit the GoPro camera flat on a surface whilst in the waterproof housing
Mounting position for the cage allows the camera lens to be centered optically with a tripod or other camera mount
For more information, visit http://www.genustech.tv/products/gopro-cage/.