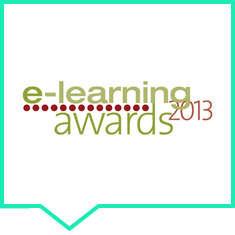 We're absolutely thrilled to be shortlisted for these awards. It's a testament to the superbly creative team we have here at Growth Engineering.
Windsor, Berkshire (PRWEB UK) 5 September 2013
It's no secret that Growth Engineering are proud of their work with Spicers in creating Spicers Academy, and they are overjoyed to have it recognised in the shortlist for 'Best private sector e-learning project'. Spicers Academy is the ultimate gamified Platform, a marvel of user engagement. In working with Growth Engineering, Spicers have increased sales knowledge among their 2,500 workers by 25%, with a 28% conversion rate of prospects to customers - a great case for e-learning!
But the excitement doesn't stop there. Growth Engineering have also been shortlisted for 'E-learning development company of the year' because of the exceptional results they have achieved as a direct result of their ethos: learning should be fun! By incorporating gamification into e-learning platforms, they have created a whole new way of learning; one which is exciting, interesting, motivating – and works.
Finally, Growth Engineering are thrilled to announce that two of their Instructional Designers, Sam Wise and Sridhar Subramaniam, have been shortlisted in the 'E-learning designer of the year' category, an award which recognises their contributions to the success of Growth Engineering's e-learning projects.
They've both produced high quality and effective learning designs over the past few years and are constantly looking to keep Growth Engineering ahead of the curve by developing ground-breaking learning methodologies. It is great that they are getting the recognition they deserve. They are up against each other in their category, of course, but to Growth Engineering they are both already winners!
Juliette Denny, Growth Engineering MD, said: "We're absolutely thrilled to be shortlisted for these awards. It's a testament to the superbly creative team we have here at Growth Engineering. Ultimately, however, we wouldn't have come this far without our fantastic clients and the results we are able to achieve for their staff and partners."
For the full short-list, please click here: http://www.elearningage.co.uk/shortlist.aspx .
Winners will be announced at a gala evening on 7 November 2013. Whatever the outcome, Growth Engineering are delighted to have been shortlisted and will continue to provide learners with fun, engaging content in a way that delivers results.
ABOUT: Growth Engineering are the arch-enemies of dull online learning. We work towards challenging every preconceived notion of eLearning to establish a new and refreshing experience for learners. We aid and inspire learning by creating innovative learning designs and using mod-ern technologies. Our Gamified Academy Platform and game-based learning creates all-new levels of engagement and we also offer a library of Ofqual recognised qualifications to help our learners pump rocket fuel into their professional development. In short, we want to make your learning journey as easy and rewarding as possible.