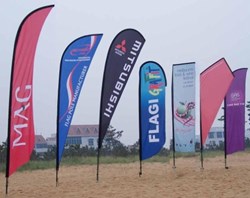 (PRWEB) September 03, 2013
There are many ways to make your brand known by other people, and custom flags may be a new idea in the current market. Recently, CKFlag.com, a well-known manufacturer of custom beach flags, has announced its custom beach flags wholesale business is now available (http://www.ckflag.com/wholesale-custom-beach-flag-cheap/).
According to the CEO of the business, any person or company place an order over $2000 can enjoy a special discount, up to 39% off, which is specially designed for the VIP customers. Moreover, if he places an order above $5000, he can get extra discount coupons based on the benefits above.
CKFlag.com can be customized with customers' logos or others on the flags. With its special print experience and flag-making technology in the industry, the company has significantly enhanced the cost-effectiveness of each flag. More details about the specifications and prices can be available from the sales staff of the company.
Custom beach flags are getting more and more popular in the recent years. Now, all CKFlag.com's feather flags now are offered with great discounts, up to 39% off; the company strongly recommends custom flags as one of the most recommended advertising tools.
In addition to custom beach flags, CKFlag.com takes pride in its large selection of flags, including custom made feather flags, outdoor flags, car flags and more. The company has been a leader in the industry. CKFlag.com's products are the most efficient and economical solution for users in many industries.
About CKFlag
Founded in 1995, CKFlag is a professional flag manufacturer from China, offering a full range of high-quality, low-price flag products and services. Its customers come from many countries all over the world. The company aims to offer its customers more choices with affordable prices, and they accept customer's own designs as well.
For more information, please visit: http://www.CKFlag.com/