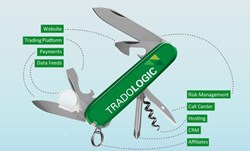 (PRWEB UK) 9 September 2013
TRADOLOGIC made the decision to differentiate the company's products between the financial and the gaming industries. The reason behind this decision is that TRADOLOGIC possesses an insight in both financial markets and gaming industries and is aware that different markets demand different products.
TRADOLOGIC recently put the line between financial and gaming industries by offering products that are specifically designed for each of these markets. The necessity of different products comes as a result of the differences between the two industries. First of all, the option live time is fixed in finance, while it is floating by player request in gaming. In financial trading the strike price is fixed while in gaming it can be either fixed or floating. For the financial industry, both ask and bid parameters must be offered. In gaming it is possible to offer just one. The odds are floating in financial trading but fixed in gaming.
As a result of a long process of product development and after meeting the regulators' requirements TRADOLOGIC came up with products for both industries. TRADOLOGIC offers Binary 100, Touch & No Touch, In & Out and Ladder (Multi Strike) to the financial trading world. Products that are especially for the gaming industry are Digital, One Touch, Range, Matrix, Turbo, Triple (Multi-Trade), Private Options.
TRADOLOGIC aims at satisfying the needs of each individual partner, as well as the requirements of the financial trading and gaming markets. TRADOLOGIC provides platforms to operators of both industries and takes into consideration the different characteristics of each industry.
About TRADOLOGIC:
TRADOLOGIC is the global leader in the financial trading industry with technology built specifically for the binary options trading market. TRADOLOGIC's goal is to offer high-quality and creative products that will deliver superior value. TRADOLOGIC is able to provide its partners with an innovative and stable technology that is necessary for a successful business.