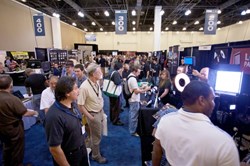 "... the industry's leading event for content creation professionals."Carmel King, NewBay Media
Los Angeles CA (PRWEB) September 19, 2013
DV Expo the industry's leading event for content creation professionals and critically acclaimed New Media Film Festival known for The Best in New Media…Honoring Stories Worth Telling team up for a Special Awards Screening Thursday September 26th 2013 2:00 to 3:30pm at Los Angeles Convention Center on day 2 of the DV Expo WHO: New Media Film Festival is hosting a screening seminar with some of its 2013 award winners.
TOP 5 REASONS TO ATTEND:
1. Knowledge - you will be surrounded by technology, imagination, stories, explanations, creation.
2. Great Content – New Media Film Festival Screening Seminar showcasing some recent Award Winners
3. Networking – more than 5000 content creation professionals attend over the 3 day expo
4. Interactive – Ask questions from Award Winners & Industry Leaders in the Q & A after each screening.
5. Free go to http://www.dvexpo.com/registration/ and select "Exhibit Hall Only,"
WHAT: New Media Film Festival Special Award Screening Seminar
WHERE: DV Expo Los Angeles Convention Center
WHEN: Thursday September 26th 2013 2PM – 3:30PM
FREE: go to http://www.dvexpo.com/registration/ and select "Exhibit Hall Only"
SCHEDULE: Fun, informative and interactive screening session.
2PM
Join 35 year industry veteran Doug Leighton, a 2 time technical Emmy Winner as he shares Panasonic's newest Innovations and answers your questions.
2:15 – 2:30
Winner Best Snipler (30 second pitch) Award Sponsored by FilmBreak Screening of:
SLEEP OVER LA
2012/USA/Dir. Lily Baldwin
Two women spend a night at The Standard hotel in Downtown LA, where they trip into a haunting dancescape, and trade places.
w/ Q & A - Editor Alex Lee Moyer Editor and Producer Nicole Disson Producer
2:30-3PM
Winner Editing Award Sponsored by Moviola Screening
TURBO DATES – "Time Stand Still" (Webseries)
2012/USA/04:00/Dir. Jocelyn Stamat Written by Terry Rossio (Pirates of the Caribbean Films, Shrek)
Turbo Dates is speed dating...only faster.
w/ Q & A -Episode Director and the Series Creator Jocelyn Stamat
3 – 3:30PM
GRAND PRIZE WINNER screening
DAVID SEDARIS'S 'THE LEARNING CURVE' - (SHOT ON RED)
2012/USA/17:43/Dir. Phil McCarty
An adaptation of New York Times bestselling author David Sedaris's 'The Learning Curve'. Starring Matthew Gubler, Criminal Mind. David Sedaris is a new creative writing teacher and tries to teach his students creative writing, failing miserably.
w/ Q & A - Filmmaker Phil McCarty and Jeff Hall (Editor, Community, Animal Practice)
New Media Film Festival: The Best in New Media-What's New, What's Next...Honoring Stories Worth Telling. Subscribe to our newsletter or follow us on any of our social media and automatically be entered into our 52 Weeks of Giving Campaign
Susan Johnston, Founder/Director of New Media Film Festival on IMDB.