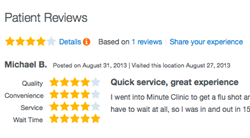 A positive online review or rating could be the different between going to one location or another.
Franklin, TN (PRWEB) September 03, 2013
Maintaining their trend of continual evolution and supporting their goal of providing a robust online resource for healthcare consumers, Urgent Care Locations has now provided the ability for individuals to rate and review walk-in clinics, including both urgent care centers and retail clinic locations.
"Whether it's a restaurant, golf course, any number of online products or just about anything else, consumers are used to reading and sharing stories about actual experiences," explains Urgent Care Locations founder, Michael Barber. "Healthcare providers – especially those in retail medicine like urgent care centers – are really no different. A positive online review or rating could be the different between going to one location or another."
Supporting this claim is recent research conducted by Dimensional Research where an overwhelming 90 percent of respondents who recalled reading online reviews claimed that those reviews influenced their buying decisions.
"If I read a review about a service provider that is always running late, is condescending in communication or is overpriced," Barber describers, "you can bet that I will keep looking. We want to make sure walk-in clinic consumers are able to have that same scrutiny in their buying decisions."
As of today, patients are now able to rate walk-in clinics on four factors that directly align with most patient expectations:

Quality
Convenience
Service
Wait time
Each attribute is weighted equally to derive an overall rating for the location. A familiar 5-star rating scale is used to indicate the overall rating of each clinic and users are able to see every individual review and rating that helped determine the overall score.
"The fun part for each clinic will be generating positive reviews," continues Barber. "Naturally, people tend to be more vocal when they are upset with something; that's when they typically share their feedback. Clinics will need to act proactively in order to offset those natural occurrences with real, positive stories."
Over the course of the next couple of months, additional site features will tie into the ratings and reviews workflow including allowing clinic owners to respond to posted reviews and to post rating badges on their own websites boasting their positive marks.
About Urgent Care Locations
With national directory of more than 7,500 independently verified urgent care and walk-in clinics, Urgent Care Locations (http://www.urgentcarelocations.com) provides free online tools for healthcare consumers to quickly search, sort and find healthcare providers. Currently in Beta, new features and content care being deployed constantly, including the ability for consumers to rate and review urgent care centers following their own patient experiences.