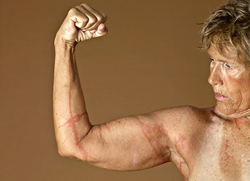 Diany Nyad completes 55 hour endurance swim from Havana, Cuba to Florida, United States.
Cedar Park, TX (PRWEB) September 05, 2013
Peak Performance Martial Arts Chief Instructor Master Gary A. Schill wants to congratulate Diane Nyad for never ever giving up on her 35 year dream to swim from Cuba to the United States.
Ms. Nyad was 29 when she first embarked on her endeavor. To provide perspective to Master Schill's students, he was 4 years into his current martial arts journey. Master Schill constantly teaches his students the importance of visualizing your dreams, building the right team and never, ever give up. Ironically, Ms. Nyad's finishing Statements was "I got three messages," an exhausted and happy Nyad told reporters. Her face was sunburned and swollen. "One is we should never, ever give up. Two is you never are too old to chase your dreams. Three is it looks like a solitary sport, but it's a team," she said.
Master Schill constantly finds ways to relate teaching success traits with current events. He teaches children and parents that age, experience and long term quest are far more important than instant gratification. There is something about Ms. Nyad today that she just did not posses at age 29. She is wiser, more determined, more patient, and undoubtedly a better swimmer than she was 35 years ago. Youth and strength are great, but wisdom and experience are far more effective tools in life.
Master Schill teaches the children and adults the benefits and reasons why a Great Martial Arts School will make you earn your Black Belt over a long period of time instead of giving you a black belt in just a couple of years. The benefits of earning a black belt from a reputable school will lead to a lifelong journey of never giving up, reaching for greatness and most importantly, helping others reach their goals so you can reach yours.
Master Schill is the President and Chief Instructor of Peak Performance Martial Arts. For more than 39 years he has studied various forms of Martial Arts. Studying and training with various military branches, he has adopted the principles of the martial arts to teaching families about everyday and future success. Master Schill is a Leading authority on child and family development, a 3 time best selling author and creator of the Peak Performers Development Program. You can reach Master Schill at Peak Performance Martial Arts in Cedar Park, Texas.