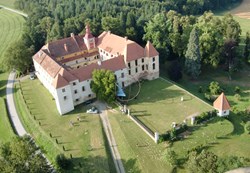 Kalsdorf Castle provides a space of encounters and exchange for the art collective Friends and Lovers in Underground. A week of artistic collaboration leads up to an open-house event featuring site-specific artworks, performances and live music.
Graz, Austria (PRWEB UK) 5 September 2013
Following stints in Paris and Zurich, the next stop of the Friends and Lovers caravan is a 16th century castle in the Austrian countryside. The event weaves together the castle's architecture and history, a collection of rare carpets held there, and works by 60 contemporary artists, presented via specially made temporary architecture. The invited artists will use local artefacts, as well as collections of important works of art history made available to them, to create a collective installation and site-specific performances. The event also includes a line-up of various artists and musicians from Hamburg and Graz. Independent Austrian art gallery Reinisch Contemporary is hosting the event.
The mini-festival at Kalsdorf Castle includes new works inspired by the carpet collection loaned to the artists by Helmut Reinisch, who spent decades developing the castle from an empty ruin into a mixed-use residential and cultural space. The collaboration puts contemporary art into creative dialogue with textile arts from various nomadic cultures, an opportunity to explore their multifarious use of patterns and colours as a form of expression. The presence of centuries-old textiles expands the encounter by conjuring up cultural ancestry. Kalsdorf Castle offers Friends and Lovers in Underground an ideal space of encounters and exchange, which will be capped off with a grand late-summer pastoral: following a week of preparation and construction, the residency will be capped off by an open-house celebration with a vibrant musical line-up on Saturday evening.
Event Details
Friends and Lovers in Underground at Kalsdorf Castle
Saturday, 7 September, 2013: 6pm – late (concerts/performances from 9 pm)
Sunday, 8 September, 2013: 4pm to 8 pm
Kalsdorf Castle
Kalsdorf bei Ilz
8286 Ilz
Austria
Line-up:
TULIP (Rocking Charme), Hamburg
Just friends and lovers, Graz
Jentle Ben, Hamburg
Holger Steen: Edvin Adler versucht die Welt
Malte Struck und Mark Wehrmann (Hamburg)
Wiederauferstehung des Ornithoptera Goliath
On Brrrr (Hamburg)
The contemporary art exhibition continues on Sunday, 8 September 2013, from 4 pm to 8 pm.
Note: Guests have the opportunity to camp on the castle grounds.
About Friends and Lovers in Underground
Founded by a group of young artists in Hamburg in 2010, Friends and Lovers in Underground is a process-oriented art initiative, in which subjects such as the underground, the creation of alternative structures and the non-hierarchical simultaneousness of views and positions play a significant role.
More information can be found on http://www.friendsandloversinunderground.de.
Kindly supported by the Austrian Federal Ministry for Education, the Arts and Culture.
About Reinisch Contemporary
More than 25 years ago, Helmut Reinisch began to collect, exhibit and trade contemporary Austrian and international art. Alongside works by promising new talents the collection also includes pieces by artists such as Arnulf Rainer, Hubert Schmalix, Erwin Wurm and Joseph Beuys.
Operating across genre boundaries, Reinisch Contemporary explores ostensibly disparate fields of work and the connections between them. From time to time, fields of resonance between selected pieces ranging from fine arts and sculpture to textiles and photography are brought to light.
Through exhibitions, residencies and cross-disciplinary projects at its locations in central Graz and nearby Kalsdorf Castle, Reinisch Contemporary creates links between artists, collectors, experts and the wider public.