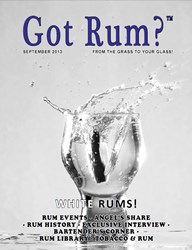 Round Rock, Texas (PRWEB) September 04, 2013
Here is a preview of what readers will find in the September issue:

From the Editor - "From Ethanol to Rum" by Luis Ayala.
The Angel's Share - Featuring Naked Turtle Rum and Wicked Dolphin Rum, reviews done by Paul Senft.
White Rum - Around the World. Explore some of the regional names used around the world to refer to white and other distilled spirits.
Bartender's Corner - Dr. Ron A. Ñejo talks about "Researching the 'Ti Punch" and also about "Essential Rum Cocktail #4: 'Ti Punch".
The Rum Historian - "The Origin of Rum- A Quest, Part Two: Barbados in 1647: Sugar, Slavery and Rum" by our new addition to "Got Rum?" magazine, Mr. Marco Pierini from Tuscany, Italy.
Exclusive Interview - Interview with Mr. Craig Adcock, owner of Jude's Rum Cake (KC, NOLA and Key West) and Belly Up BBQ – based in Kansas City.
Rum in History - A timeline of what happened in the month of September throughout history from 1522– 1883.
Pairing Tobacco & Rum - Mr. Philip Ili Barake bring us "The Highest Pairing". This pairing literally takes place at an altitude of 7900 ft. in La Parva,a region in Chile. The pairing consist of a Drew Estate Liga Privada Unico Feral Flying Pig Cigar and Zacapa Solera 23 Rum from Guatemala.
Rum Library - Margaret Ayala's book review of "America Walks into a Bar".
Featured ads by:
The Rum University – The History and Science of the Barrel
Pack Expo – Advancing Processing + Packaging
Show Rum – Italian Rum Festival
4th Caribbean Rum and Beer Festival
Private Label Rums by Rum Runner Press
The Rum University - Legal Trademark Notice
From its launch in May of 2001, "Got Rum?" has been the world's first and only monthly publication devoted solely to rum. It has been responsible for educating consumers and industry members alike, by publishing interviews with industry members, exclusive material from The Rum University, product reviews and much more.