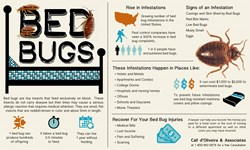 (PRWEB) September 11, 2013
Bed bugs are small, flat insects that are reddish-brown in color and approximately 5mm in length. Bed bugs can produce hundreds of offspring and live an entire year without feeding. The most common signs of an infestation are bite marks, casing and skin shed by the insects, insect eggs, and a musty smell. Infestations have been reported in apartments, college dorms, hotels, hospitals, movies theaters, and offices. These insects spread by traveling on clothes, furniture, luggage, and other items. In general, bed bugs are not dangerous but in some cases medical attention may be required (i).
A recent article by the Daily News warned that students at elementary schools and colleges should take steps to avoid bringing bed bugs home. An expert on bed bugs recommends storing items in plastic bins because insects cannot climb up these smooth surfaces. Additionally, students moving into a dorm room should do a thorough check of their room and cover their mattress and pillow with bed bug resistant casings. Insect Interceptors can also be placed under bed posts and furniture legs. These devices make it easy to detect and trap these pests (ii).
Attorney Paul d'Oliveira stated, "In recent years, I have heard more and more stories about infestations at apartments, hotels, and schools. People who live at these places expect that the owner will take the proper precautions to ensure the health of guests and residents. However, in some cases, bed bug bites can cause allergic reactions and other problems that require medical attention. In these situations you may be able to recover for your injuries."
The bed bug infographic provides information about these insects as well as statistics about infestations in the United States. d'Oliveira & Associates has practiced personal injury and disability law in Rhode Island and Massachusetts for more than 24 years. The law firm works with some of the more experienced bed bug lawyers, who can file a lawsuit, and there are no legal fees unless a settlement or award is successfully obtained. Contact the firm by calling 1-800-992-6878 or submit a contact form online.
(i) Center for Disease Control and Prevention, Frequently Asked Questions.
cdc.gov/parasites/bedbugs/faqs.html
(ii) New York Daily News, August 21, 2013.
nydailynews.com/life-style/health/back-school-bringing-home-bedbugs-article-1.1432785