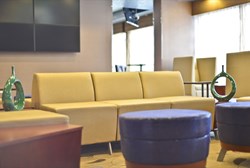 Working with Accent Hospitality Boutique allowed us to differentiate ourselves from this set design standard and in return enhance the experience for our guests.
Plantation, FL (PRWEB) September 06, 2013
Bigger is not always better when it comes to choosing a hospitality design firm. The recent conversion of a well-worn Chicago-area Comfort Inn into a light and modern Wyndham Garden Hotel in Elk Grove Village, Illinois, is a great example. The owner of the property chose Accent Hospitality Boutique to give the hotel a competitive advantage in a market vying for the business traveler with its proximity to Chicago O'Hare airport. Since opening in March, Wyndham Garden in Elk Grove Village has become the number one hotel on TripAdvisor.com.
Shaun Meister, Project/Opening General Manager for the Wyndham Garden renovation, points out that there are numerous regulations and brand standards to take into consideration. Working with a smaller firm, however, makes a difference. "Working with Accent Hospitality Boutique allowed us to have a team putting together a unique design plan that is different from any other Wyndham Garden property, but still adheres to the required brand guidelines set in place," said Meister.
All trends point to creating a unique guest experience, a cornerstone for many smaller design firms. "Many hotel brands have a set design package for their rooms...a traveler could be staying in a specific branded hotel in any city or state and they will essentially get the same room with the same 'look and feel.' Working with Accent Hospitality Boutique allowed us to differentiate ourselves from this set design standard and in return enhance the experience for our guests," said Meister.
Formerly a Comfort Inn, Rose, Design Concierge of Accent Hospitality Boutique, faced the unique challenge of decorating non-standard guestrooms. "I approached the project with European inspiration by infusing the smaller space with luxury items to make it seem larger," she said.
Smaller firms often have a network of sources offering unique procurement options from around the world. Rose and her team ordered special furniture pieces a few inches shallower than standard so guests could navigate the room comfortably. The vanity sink located outside the bath area was given a touch of luxury with a granite surface and backlit mirror. The 37-inch television console includes a pullout Keurig® machine. Furniture follows modern lines, including the Herman Miller Sayl chairs in the conference room.
In the end, Meister says the biggest benefit in working with a boutique-size firm is personal attention and follow-up. "Rose was my main point of contact and was readily available with any questions and comments along the way... from planning stages, to delivery and set-up of FF&E, and everything in between. It was nice to have one person who was so dedicated and knew our project inside and out. If the team had questions we knew we would get a prompt and efficient response. In addition, Rose follows up like no other vendor I have ever worked with....she truly takes the time to ensure that things are delivered and taken care of the way they are promised to be. If something goes wrong or there are any mix-ups – which we all know happens when it comes to renovations or openings – Rose is there to fix the situation and ensure all is well."
Awash in neutral colors of the brand with "pops" of blue and green, Accent Hospitality Boutique's team worked with the hotelier's vision to open up the lobby area with a series of high windows to let in the light. A revenue-producing full-service restaurant and bar now offer guests an inviting place to hold business meetings.
Keeping in mind the hotel's major target audience, traveling business executives who need access to the airport, hallway walls feature stylized black and white photos of airport travelers in motion. A touch screen with real-time flight information offers travel updates in the lobby and modern sculpture pieces add artistic beauty throughout the facility with an impressively sized, wire-frame sphere sculpture as a focal point in the lobby.
According to Meister, it has never been more important for hoteliers to emphasize their uniqueness. "Hoteliers are all about giving their guests something special and unique to set themselves apart from their competition and have travelers choose to stay at their property. It is absolutely imperative that hoteliers put themselves in the guest's shoes when making decisions during a renovation or new property opening. Everything from the outside to working your way in the building is thought with the guest in mind," said Meister.
About Accent Hospitality Boutique
Accent Hospitality Boutique is a full-service hospitality design and procurement firm that provides luxury design for the midscale brand hotelier located in Plantation, Florida. With an emphasis on ROI, they provide a host of interior design, project management and improvement services for newly constructed, renovated or re-branded hospitality properties.
Contact Accent Hospitality Boutique at 954-305-9516 or visit http://www.accenthb.com.