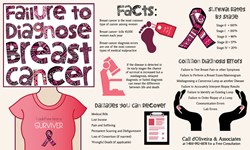 (PRWEB) September 13, 2013
Breast cancer is the second most common type of cancer among women in the United States. It is estimated that in 2013 alone there will be 232,340 of new cases invasive breast cancer and 39,620 women will die from this disease (i). As this disease progresses to later stages the survival rates are lower which is why early detection is so important for patients. The delayed diagnosis, failure to diagnose, and misdiagnosis of breast cancer are major sources of liability for doctors. According to the Journal for the American Cancer Society, the "alleged delay in the diagnosis of breast cancer is one of the most common reasons for medical malpractice claims in the United States, accounting for the largest indemnity payments of any single medical condition" (ii)
Breast cancer awareness has been raised across the country through pink ribbons as well as pink sports uniforms. The East Providence Patch reported that the Pink Heals Tour will be participating in the town's annual Labor Day parade. Pink Heals is a national organization that tours the country in order to raise awareness about breast cancer and support for research. The organization will have a pink fire truck in the parade which people can sign at the end of the parade (iii).
Paul d'Oliveira stated, "Women diagnosed with this disease need to know that they are receiving the best treatment in order to focus on their own recovery. However, a medical error complicates the recovery process and can even lead to serious injuries or death. If you believe that you or a loved one has suffered this type of injury, do not hesitate to give us a call."
The failure to diagnose breast cancer infographic details common medical errors that result in delayed, failed, or misdiagnosis. d'Oliveira & Associates focuses exclusively on personal injury and disability cases. The law firm works with some of the more experienced medical malpractice lawyers, who handle lawsuits, and there are no legal fees unless a settlement or award is obtained. Contact the firm by calling 1-800-992-6878 or submit an online contact form.
(i) American Cancer Society.
cancer.org/cancer/breastcancer/detailedguide/breast-cancer-key-statistics
(ii) Journal of the American Cancer Society.
onlinelibrary.wiley.com/doi/10.1002/cncr.2820741311/abstract
(iii) East Providence Patch, August 20, 2013.
eastprovidence.patch.com/groups/summer/p/another-labor-day-parade-coming-to-ep