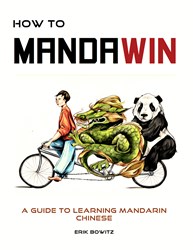 How to Mandawin is a succinct and humorous look at what it takes to have fun learning Mandarin Chinese, and how anyone can enjoy the process.
Minneapolis, MN (PRWEB) September 09, 2013
If the average person were asked to name the hardest language in the world to learn, what would it be? Many people would guess Mandarin Chinese, and they would be in the majority, but they would also be wrong. In fact, with the right approach and mindset, Chinese can actually become a fairly easy language to learn, explains Erik Bowitz, author of How to Mandawin: A Guide to Learning Mandarin Chinese.
"There is a huge misconception that Chinese is impossibly difficult because it sounds so different, so alien from English." That is because it is a tonal language, which has no alphabet. However, just because something sounds alien doesn't necessarily mean it is difficult, pig Latin as the prime example of something ridiculously simple sounding much more complex than it truly is.
As far as writing goes, sure there tens of thousands of characters in Chinese, which means learners will never learn them all. But don't despair, because even people born and raised in China don't know them all! In fact, according to the Asiansociety.org, the average Chinese person only knows three to four thousand characters. If the 1.3 billion people in China can learn enough to be proficient, then statistically, so can any average human being.
"Don't let the strange-looking characters (logograms) scare you; they are essentially just modern day adapted pictograms. Being the world's oldest continuous language, all Chinese characters have evolved from simple pictograms. Can you understand cave paintings? Then you can understand how anyone can come to recognize and understand a modern, expanded version of the same picture-based language."
"How to Mandawin" is a book written for anyone who has ever had interest in learning Mandarin Chinese. If you've opened a fortune cookie at a Chinese restaurant and found the vocabulary on the backside of your fortune interesting, then this book is for you. Erik explains in very simple, and often humorous language what it takes to begin learning Chinese and guarantee success. Drawing from real life experiences as well as his own studies and travels, "How to Mandawin" lays out a first-hand, foolproof strategy for learning Chinese.
Broken down into short and concise sections, the book details how to prepare, how to get in the right mindset, knowing what helps and what hinders Chinese learning, classroom and immersion techniques, studying abroad and working scenarios, and even how relationships contribute to building fluency.
Ultimately, How to Mandawin aims to equip the reader with the best strategy to win at learning Chinese and have fun doing it. 加油!(You can do it!)
How to Mandawin is available exclusively at Amazon.com.