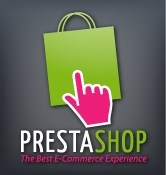 Today, more than 20 translations are over 95% complete, that's greater than Magento, Shopify and Volusion combined.
Miami, Florida (PRWEB) September 04, 2013
PrestaShop, the world's leading e-commerce solution powering over 150,000 online stores worldwide, is making groundbreaking advancements for the internationalization of e-commerce by offering e-merchants 57 languages and innovative features to completely localize their online store.
All 57 evolving translations are a result of contributions from PrestaShop's ever-expanding half a million member international community. Members contribute to languages from their respective countries to ensure that words are not merely translated but that phrases and text fields read well to native speaker; increasing an e-shop's credibility and providing a strong sense of security for international customers.
With the world's most powerful free e-commerce language solution, PrestaShop merchants can expand their customer base and multiply their revenue. PrestaShop powered stores can detect where a visitor is coming from and localize the entire store front from the language to currency to metrics. By integrating PrestaShop's localization features, merchants can virtually set up shop anywhere in the world.
"PrestaShop's incredible translation platform and advanced localization features are part of our determined efforts to ensure PrestaShop users are the most successful e-merchants on the web. We work day and night to deliver state-of-the-art technology that transforms an online store into an international sensation," comments Matt Serralta, PrestaShop COO.
Today, more than 20 translations are over 95% complete, that's greater than Magento, Shopify and Volusion combined. Additionally, PrestaShop offers a variety of dialects to ensure that languages are entirely localized and well received by natives. Some of PrestaShop's most popular languages include: Danish, German, Dutch, English, Spanish, French, Italian, Polish, Russian and Chinese. Find the complete list of translations available in the PrestaShop software here.
About PrestaShop
PrestaShop continues to be the world's most popular Open-source e-commerce solution, powering more than 150,000 stores worldwide. Backed by leading industry partners, PrestaShop ensures easy online selling by providing more than 310 native features that can all be customized to fit the needs of every online business. The growing success of PrestaShop's software is the result of countless code contributions, suggestions, and encouragement from its ever-expanding 500,000 member community. PrestaShop is the proud two time winner of Packt Publishing's Best Open-Source Business Application Awards and a winner of Europe's renowned Bsoco Award in the 2013 CMS category. The PrestaShop team's passion for pursuing excellence is fueled by business owners who desire a free, powerful, and easy e-commerce solution. For more information on PrestaShop visit http://www.PrestaShop.com, follow @PrestaShop on Twitter and like PrestaShop at http://www.Facebook.com/PrestaShop.