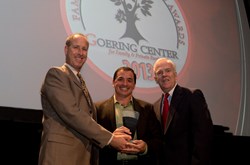 "Definity has developed their own Fearless Front Line, and credit for this award goes to the whole company." - Ray Attiyah, Founder and CIO
Cincinnati, Ohio (PRWEB) September 04, 2013
Definity Partners, a business improvement firm, has been awarded the 2013 Goering Center for Family and Private Business' Private Business Award for 16-34 year old organizations. The awards for Runner Up in the category were given to Eco Engineering and The Asset Advisory Group.
Definity was selected because their focus on "high hanging fruit" is delivering impressive growth for their clients as well as themselves. Judges highlighted that employees are continually exposed to diverse challenges, stretching and growing their skillset. Judges also recognized that Definity's culture of continuous improvement drives development internally, resulting in the expansion of technology solutions and growth of their primary operations consulting service, the Run-Improve-Grow Roadmap.
"We're honored and thrilled to be recognized by our community like this," said Ray Attiyah, Founder and Chief Innovation Officer of the company. "Definity has developed their own Fearless Front Line, and credit for this award goes to the whole company. We deliver fantastic results for our clients because of the skills, talents, and hard work of everyone at Definity. "
The Goering Center for Family and Private Business, at the University of Cincinnati, is a leading educational and informational resource center for family and closely held business. They have been serving the tri-state region for over 20 years. The awards gala took place on August 27th at Cincinnati Music Hall and celebrated the successes of the award's 533 nominees and 93 finalists. This year's judges included an independent panel from Fifth Third Bank and Mellott & Mellott, PPL.
Learn More about Definity
Ray Attiyah, Founder and Chief Innovation Officer at Definity Partners, will share a summary of the methods behind Definity's new Run-Improve-Grow Roadmaps on Thursday, September 12th. The Run-Improve-Grow Roadmap outlines the path that good companies take to begin operating at a world-class level, with greater confidence and predictability. Ray will also share how the best leaders overcome organizational and frontline challenges to gain competitive advantage in the marketplace. The presentation will be part of Full Service Networking's newly formed Executive Level Presentation series and will be hosted at their location in Blue Ash from 7:30 to 9:00am. To register for the event please visit Full Service Networking's events page.
About Definity Partners
Definity Partners is a business improvement firm that implements process, organizational and technological improvements to deliver rapid results. The organization excels at identifying and developing leaders within a client's organization and establishing a culture that values change and continuous improvement. In 2012, Definity Partners acquired Libertas Technologies who in 2011 won the Goering Center's Private Business award in the 0-24 year range.
Definity's emphasis on developing the front-line team and process improvement has helped them build a base of over 200 satisfied clients in an array of industries. They have offices in Cincinnati, Atlanta, Cleveland, and Columbus.