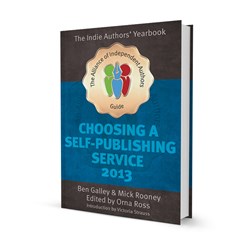 Drawing on the experiences of our author members, and the hard work of our watchdog team, this regularly updated guide points a clear pathway through the rapidly changing and often confusing landscape of author services - Orna Ross, ALLi Director
LONDON (PRWEB UK) 5 September 2013
"There are sharks out there in the literary waters... This Guide gives you all the skills and information you need to comparison shop -- and if you are planning on successfully self-publishing, comparison shopping is essential." ~ Victoria Strauss of Writer Beware!
The ever-expanding self-publishing industry has opened up new pathways for aspiring authors. Yet the huge array of options makes finding the right path challenging. Anticipating the need for impartial and relevant advice, the Alliance of Independent Authors (ALLi) is delighted to introduce Choosing a Self Publishing Service 2013.
Compiled by ALLi's watchdog team, Choosing a Self Publishing Service 2013 compares twenty of the most significant self-publishing services. The guide is an indispensable and regularly updated summary of the key players, offers and charges, featuring the experiences of real-life indie authors alongside extensive ALLi research.
More than just an introduction to the industry, the guide gives writers the means to take control of their publishing journey. Empowering informed decisions in a rapidly changing landscape, Choosing a Self Publishing Service is a vital tool for any independently minded author.
Orna Ross, director of ALLI said, "Many authors feel paralysed by choice when faced with the array of self-publishing alternatives before them. Drawing on the experiences of our author members, and the hard work of our watchdog team, this regularly updated guide points a clear pathway through the rapidly changing and often confusing landscape of author services."
ABOUT –
The Alliance of Independent Authors (ALLi) is a non-profit, professional association for author-publishers. Rapidly growing, with members all over the world, ALLi (http://allianceindependentauthors.org) is now a significant force in international publishing.