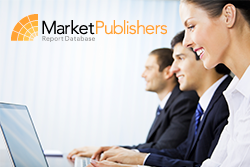 London, UK (PRWEB) September 03, 2013
Market Publishers Ltd and Food for Thought FFT S.A. (FFT) signed a partnership agreement for quality market research promotion on Internet. MarketPublishers.com is now authorised to distribute and sell FFT reports.
Tanya Levdikova, Assistant Manager at Partners Department, said that Market Publishers' team of publishers has been enriched with a new member from Switzerland – Food for Thought. "First launched in 1989, this international firm has grown to encompass North America, Western and Eastern Europe today. Besides producing reports covering over 150 food and drink product categories across various geographic markets, FFT delivers bespoke consultancy and corporate advisory for numerous customers from pole to pole. We are glad to have partnered with Food for Thought and are sure that our cooperation will bring about the desired results," commented Tanya Levdikova.
In-demand reports by FFT include:
The Industrial pastry Market in Germany: The research study draws up an elaborate picture of the German industrial pastry industry, covering historical and forecast demand, supply structure (in the product and in the country), historical trend and forecast growth, major brands, etc. Entailing a fully up-to-date mapping of the sector, the report provides valuable support to strategic marketing decisions, in particular regarding: strategic planning, marketing & sales, mergers and acquisitions, market opportunities & risks, and companies' strengths & weaknesses.
The Flour (retail only) Market in Belgium / Luxembourg: The study provides a unique strategic vision of the flour (retail) industry in Belgium/Luxemburg, in particular identifying the numerous companies present together with their market shares and major brands by country and product. The report provides market demand for years 2007, 2011, 2012 and forecasts for years 2013, 2014 and 2015; besides including company market shares and brands for 2012, among other issues.
The Bread products Market in Hungary: The report provides a complete quantitative, hard data demand and supply analysis of final human consumption in the country and product markets. 17 ultimate holding companies are discussed in the report together with their market shares; with own-label share of the market cited, too. The market share represented by the leading companies in the report (up to 10) is 79.5%.
The Crispbread Market in Austria: The study offers a comprehensive guide to the Austrian crispbread sector. The report includes separate foodservice and retail market data by volume and value, and by product and country – hence providing complete coverage of the final human consumption. Up to the Top-10 holding companies by market share by product, country and region; Up to Top-100 holding companies listing by overall market share in the present markets; as well as own label, branded, unbranded and artisanal market shares are discussed, too.
More details on FFT and their reports can be found at http://marketpublishers.com/members/food_for_thought/info.html
About Us: MarketPublishers.com is a multilingual hypermarket offering a rich collection of comprehensive studies on various markets, sectors, industries, companies, etc. We perform professional services aimed to equip our clients with high-quality research products and support critical decision-making.