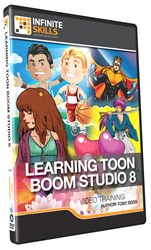 Learn to draw and animate with Toon Boom Studio 8 at your own pace.
(PRWEB) September 05, 2013
Software training firm Infinite Skills Inc. this week introduced its "Learning Toon Boom Studio 8 Tutorial," an introductory course designed to teach basic animation tools and techniques with this fun and user-friendly software.
Toon Boom is an industry leading animation software company, producing software used regularly by major Hollywood studios, including Disney, Universal, and 20th Century Fox. Studio 8 is the latest release of Toon Boom's entry-level application designed for animation beginners, hobbyists, teachers, and other home users, providing an easy-to-use way for beginners and hobbyists to create high-level animation.
Infinite Skills' Learning Toon Boom Studio 8 teaches the essential skills and techniques for getting started animating in Toon Boom Studio 8, allowing new users to master fundamental skills in a matter of hours.
Learning Toon Boom Studio 8 Video Training - DVD
Course author Tony Ross is a professional animator and trainer with over a decade of experience in both fields. He was a leader at the Creative Cow peer support community for designers, and has taught digital design and animation at the college level. He currently operates his own training service.
Here, Ross uses his experience to simplify Toon Boom Studio's complex tools and techniques.
After beginning with an overview of the interface, explaining the workspace, toolbars, timeline, and shortcut keys, he explains how to perform basic drawing and animation to create both traditional and stop-motion cartoons.
Ross explores the drawing tools in Toon Boom Studio, such as how to use shape tools, the polyline tool, the pencil tool, and more, before explaining how to create color and texture tools for smoothing, cutting and erasing, grouping, and flattening drawings.
Then, after learning the basics of drawing and coloring, Ross explains the various animation techniques, teaching important concepts such as using frames and keyframes, working with pivot points and rotation, easing, motion tools, and more.
Other chapters teach animating with bones, working with stop-motion animation, scene building, lip-syncing, and working with a storyline.
"There are two things I'm passionate about," Ross says, "one of them is teaching, and the second is animation. Learning shouldn't be complicated. Even the most complex tasks can be broken down into simple steps. I'm here to help you learn how to create complex animations very simply."
http://www.infiniteskills.com/training/learning-toon-boom-studio-8.html
Infinite Skills offers its Learning Toon Boom 8 Training Video either as a DVD or a direct download from the company website at a retail price of $99.95. All Infinite Skills titles and formats are compatible with Mac and Windows operating systems, and shipping is available around the globe. Additionally, Infinite Skills tutorials are supported by project files which correspond to examples in the videos, allowing users to work alongside their instructors right on their computer or iPad.
About Infinite Skills Inc.
A leader in the field of software training, Infinite Skills strives to offer the highest quality training available at an affordable cost. Infinite Skills tutorials are task-oriented instructional videos, teaching complex skills by providing hands-on examples and guiding users as they carry out critical objectives. Infinite Skills offers a comprehensive range of software titles available as DVDs, digital downloads, as well as iPad editions—keeping with company aim of delivering professional training to customers anywhere they want to learn.