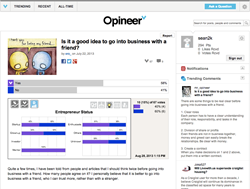 (PRWEB) September 04, 2013
As an innovative social media platform dedicated to new business owners, Opineer.com is now introducing polling within user timelines. This polling mechanism helps Opineer to deliver specific information needed to start or grow a business.
Through Opineer's unique interface, entrepreneurs can create poll-based posts and share their experiences. In turn, poll results are displayed in real time with quantitative results including demographics, relevant news and detailed analysis. The polling functionality helps members to share opinions and experiences quickly and effectively. It also gives a breakout of trending, recent and popular topics.
Opineer's founders say this functionality is an essential part of their platform that will result in a higher rate of participation. They believe it is especially valuable to entrepreneurs who are part of niche business communities. "It is extremely hard for entrepreneurs to pick up the right information in current discussion communities because same advice is given to everyone regardless of their situations," says Co-founder Yun Paik. The curation feature, which will be implemented soon, will help users to pick up the most relevant information quickly.
Opineer's creators say the website will continue to develop methods of delivering timely information to start-ups. In addition, Opineer makes it possible for users to engage in in-depth conversations with other entrepreneurs through its intuitive commenting system. Users are also able to sign in with their Facebook, Twitter or Google+ accounts for easier sharing across social media platforms.
About Opineer:
Opineer is a Virginia-based company specializing in social media dedicated to entrepreneurs. It is also a website which provides business owners with a platform to quickly share opinions, receive feedback, and discuss the latest industry news. It was founded by three Carnegie Mellon University alumni in 2012. To find out more about what Opineer can do for you, visit Opineer.com.