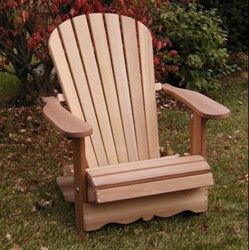 The best Adirondack furniture that money can buy.
Ottawa, Ontario (PRWEB) September 04, 2013
Capitalizing on strong sales in spring and summer, DFC Woodworks Inc., The Best Adirondack Chair and President Francois Bruneau is ecstatic to be celebrating their two-year anniversary move to Kemptville, Ontario, one of the province's most sought-after places to live.
To commemorate this special occasion, DFC Woodworks Inc. will continue to offer some of the lowest prices on handcrafted Adirondack chairs on the market today, including their Singles Royal Patio Set for $695.00, their Royal Patio Set for $875.00 and their Classic Adirondack Chair for $199.00 and much more.
Specializing in Adirondack chairs, chair & patio sets, ottomans, swings, lounges and chair accessories, DFC Woodworks Inc. prides itself in handcrafting each piece of furniture, as they continue to be the only Canadian-based company successful in the market, along with their unheard of 10 year written guarantee on all products, as well as a lifetime guarantee on all Ipe wood products.
DFC Woodworks Inc. has evolved with the times, consistently improving their products and creating new ones and is an environmentally responsible maker of Adirondack and Muskoka chairs. With a philosophy that is geared towards excellent customer service, the company promises exceptional products and a lifelong commitment to their customers.
Its treatment process, for example, is the best. The manufacturing process is precise so that every piece is meticulously crafted and there is a magnificent luminosity. There is a no-questions-asked ten-day return policy for all customers. The company will even cover the freight cost to return the item. Replacement of pieces with faulty lumber or substandard work is part of the unconditional guarantee.
DFC Woodworks Inc. looks forward to many fruitful years of handcrafting the best Adirondack furniture that money can buy or as one happy customer puts it, "My husband put the Adirondack chairs together last weekend. They are beautiful! Thank you so much for the thoughtful care you put into your product!"
Get them before they're gone. These sale prices won't last long.
About DFC Woodworks Inc.: Due to its quality workmanship, unique design extras to the basic chair and with more than fifty years in the business, the firm has the expertise and determination to provide top quality outdoor furniture.