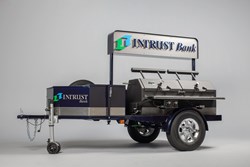 I never dreamed of having something quite this nice. We can feed a small group or fire that thing up and get it going for a couple hundred.
Wichita, KS (PRWEB) September 05, 2013
The folks at INTRUST Bank are always looking for ways to forge stronger relationships with customers. With the help of All Things Barbecue, their latest effort is sure to leave a good taste in customers' mouths.
INTRUST turned to All Things Barbecue to find a custom grill that can be towed around the region, fired up on the spot and used to feed a crowd. Manufactured by Yoder Smokers, and emblazoned with the bank's logo and colors, the grill features nearly 2,000 square inches of cooking space on two levels. In other words, no one's going hungry with this baby around.
"We were looking for a commercial grade grill that we could use to entertain customers that would also complement our bank's brand -- and All Things Barbecue provided a perfect solution," said Diane Iseman, communications and public relations manager for the bank.
Bill Bequette, a senior wealth advisor at INTRUST and a member of the "grill team," said the idea for the special piece of equipment came from another bank in Arkansas. "We thought, 'Let's do something extra for our customers," Bequette said. "Going out and cooking for their employees let's them know we appreciate them."
So far, the grill has fed the employees of several commercial customers of the bank. It's been used for INTRUST customer appreciation days at branches in Wichita, Manhattan and Eldorado. Look for it as well at this year's Wichita Wagonmaster's Downtown Chili Cook-off.
Bequette and a half-dozen other INTRUST employees man the grill. Bequette says bank officers Alan Corliss, Bob Harbison and Jack Roberts "are probably our best cooks. They can handle the stress of a whole bunch of things happening at once." Having a great grill helps. Some features of the grill include 1,440 square cooking inches on the main shelf and another 515 square inches on the second shelf. Dual 60,000 BTU burners provide plenty of grilling power while front and side mounted storage boxes with slide out lids double as prepping and serving tables. Custom signage with 3D lettering, an accent strip and the familiar blue INTRUST color scheme promotes the corporate image.
"I never dreamed of having something quite this nice," Bequette said. "We can feed a small group or fire that thing up and get it going for a couple hundred. My job at the bank is to build deeper relationships with the customers, and it does that."
All Things Barbecue is in the business of providing just the right grill for you, whether you're a big business like INTRUST or a dedicated backyard grill master. For more information, check out the All Things Barbecue showroom at 615 W. Douglas or visit http://www.atbbq.com.